Shayanne Martin: Safely Biking to Work at UCSF
---
By Robert Hood on November 27, 2019
---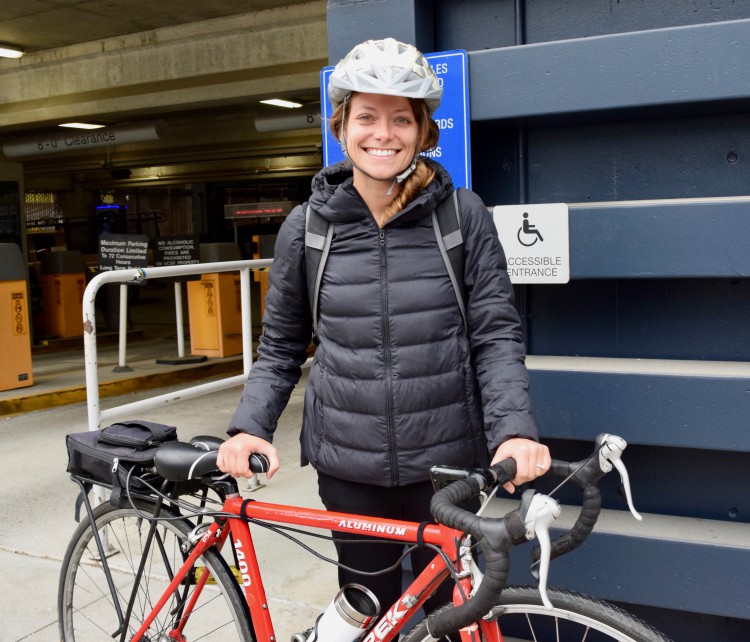 When Shayanne Martin started as the program manager in the Department of Neurology two-and-a-half years ago, there was no doubt she would bike to work.
"I biked to work in Washington, D.C., so it was natural to keep biking," she said. Of course, San Francisco's famously hilly terrain presented a different commuting challenge from Washington, D.C. "My ride back home from UCSF is all up hill, as I live above the Castro and face the massive 17th Street hill."
Martin rides a Trek 1400 road bike with a Leeds electric front wheel to cut her ride home in half. She has a back rack that holds the battery that powers her front wheel. That battery eliminated the rear pannier she used in Washington, D.C. to carry necessities to work but she would advise any new bicyclist to use panniers to carry work essentials.
And, as a veteran bike commuter, Martin knows safety is a top priority on her commute.
"A front white light and rear red light are essential for biking at night. And a helmet of course!" Martin also advises using routes with bike lanes and to watch for car doors opening and for cars turning right and crossing bike lanes.
Part of safely biking to work is keeping your bike safe, Martin said. "I park my bike in the 3rd Street garage near Mission Hall because I've had my bike stolen from in front of Genentech Hall," she said. She said a good, heavy-duty lock is essential and having two locks is preferable. "If you have just one lock, you should have a cable for your second wheel."
Finally, connecting with other UCSF bike commuters helps new bicyclists form a community and learn some of the tricks. UCSF Bikes! is a group of bicycle commuters and enthusiasts who promote bicycling for everyday transportation. Their goals include:
• Friendship, fellowship and fun
• Promote UC bicycle culture
• Discuss campus resources, infrastructure and bicycle security
• Share commuting and bicycling tips
• Post bicycling volunteer opportunities and other bay area bicycle gathering of interest
• Keep UCSF healthy!