Select UCSF Retailers Open, Ready to Serve the UCSF Community
---
By Robert Hood on June 29, 2020
---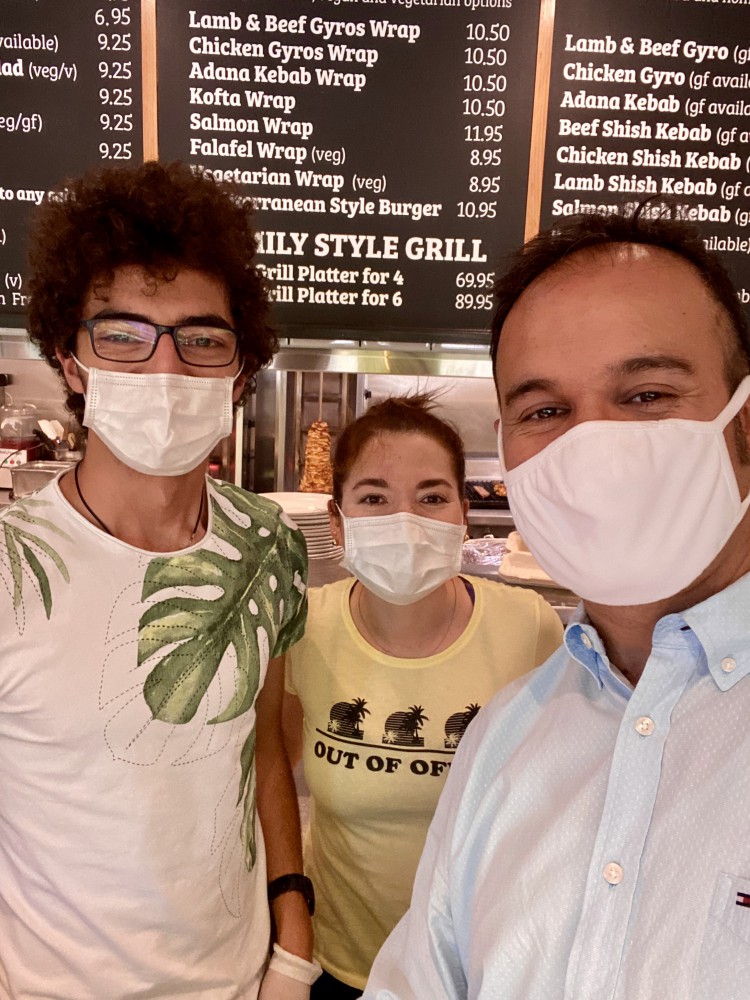 At the onset of the COVID-19 pandemic, select retailers at UCSF remained open to serve essential workers. Some closed their doors. Nine of the seventeen campus eateries remained opened for takeaway only, including SF Kebab. Their staff is photographed above (Left to Right): Sidar Cakirgoz, Laura Pena, and Bawer Tekin, owner of SF Kebab.
"It has been a difficult time for UCSF retailers, particularly our food service tenants," said Jennifer Dowd, associate director Retail, Conference and Event Services at UCSF. "Even those who remained opened experienced a 70 to 80 percent loss in daily business."
In addition to select food service tenants, Walgreen's Pharmacy has opened at Mission Bay and Parnassus along with Golden 1 Credit Union at Mission Bay. The UCSF Campus Store remained open for online orders.
"As additional businesses across San Francisco begin to reopen, the remainder of our campus restaurants will follow suit," Dowd said. "Retail Services has developed a 'return to site' checklist that each tenant must complete prior to re-opening, including a walk-through with our team and facilities to be sure they are in compliance with all of the requirements for signage, masking, social distancing and that they have the proper cleaning protocols in place. Over the next few months you will see more tenants opening as more UCSF staff return to campus."
A special web page has been developed to update the hours and conditions of operations for UCSF retail services. Hours are also available on the UCSF mobile app. "Employees should check the website regularly because conditions continually change for our retailers. Additionally many have adopted an online ordering and payment option so you may order in advance and skip any lines!" Dowd said.