Sean Aloise: UCSF Facilities by Day, Musical Theater by Night
---
By Robert Hood on August 05, 2019
---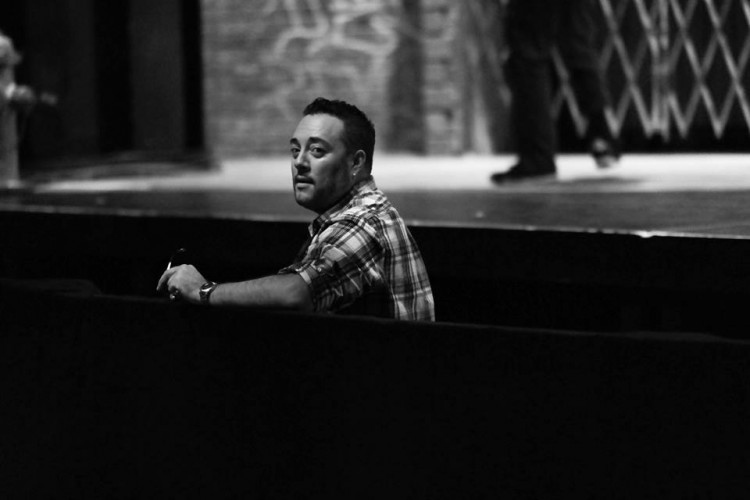 On any average day you'll find Sean Aloise communicating to researchers, students, faculty, and staff at UC San Francisco on a wide range of facilities issues from remodeled restrooms to window cleaning. At night, however, he transforms into the music/vocal director for such stage hits as Cabaret, Westside Story and Oklahoma.
"They are, literally, two different worlds," Aloise said with a laugh as he sat in his office at the university's Mission Bay campus.
His love of musical theater started when he was a young man living with his grandmother. "At that time, I hated classical music," he said with a laugh. "I had a very strict piano teacher who drilled me on classical music. I enjoyed music from television shows and movies more so. Eventually, I grew to love classical music."
Attending St. Ignatius High School in the Sunset, Aloise played keyboards for the school's musicals as well as playing in the orchestra, jazz band, and singing in the choir. Following graduation, he enrolled at San Francisco State University and pursued a Bachelor's of Music degree with an emphasis on vocal performance. "It was at San Francisco State that I fell in love with voice," he said. While on campus, Aloise also began working with orchestras and directing vocals.
His educational experience working with orchestras and directing vocals led to Aloise working professionally in community theater, first as a vocal director and later as a music director. He produced music for Into the Woods, Ragtime, The Producers, The Sound of Music, Legally Blonde, Joseph and the Amazing Technicolor Dreamcoat, and RENT. He also played keyboard for Dirty Rotten Scoundrels, Cinderella, Peter Pan, Miss Saigon, The 25th Annual Putnam County Spelling Bee, and more. Aloise has toured Cuba, China, Italy, France, London, and through the United States singing, directing, playing and giving musical theatre workshops.
Jon Giacomi, assistant vice chancellor of Facilities Services, said it's fun to watch Aloise in that element of his career and life. Giacomi and other Facilities Services staff recently attended a musical in Berkeley featuring Aloise. "He's a communications manager by day and music director by night," Giacomi said. "He has taken our facilities communications program to a different level. And, yes, he occasionally breaks out in song at the office and brings a smile to everyone's face. We are fortunate to have someone with his talent on our team."
Aloise has been nominated for multiple Theatre Bay Area awards and was successful in winning best music director in the bay two years in a row. He also received awards for best musical and ensemble. Aloise is known as a trifecta in the Bay Area, being an accomplished music director, vocal director and master teacher of vocal pedagogy. He has worked at ACT (American Conservatory Theatre, SF) in the Master of Fine Arts program as a vocal educator, teaching actors how to sing before they head to Broadway.
Most recently, Aloise served as the associate music director for the soon-to-be Broadway musical hit, Ain't Too Proud, the Life and Times of the Temptations. "We began that project in 2017 and it didn't take long to understand I was going to need more time," he said. He cut back on his hours at UCSF to focus on the Berkeley Rep production. It was a smash hit. The show was extended multiple times and it broke the company's box office records. It also received 12 Tony Award nominations.
When the show ended in November 2017, Aloise joined the production on a national tour that included stops in New York, Los Angeles, Washington, D.C., Bloomington, Indiana, and Toronto. Following the tour, the production was picked up by the Imperial Theatre on Broadway and Aloise had a decision to make.
"Honestly, I needed a break. Touring was fun but not easy. I wanted to be home for a while and Broadway isn't going anywhere," he said.
Ain't Too Proud went on to gross $1.6 million in the week following the Tony Awards but Aloise isn't looking back. He most recently contributed to the smash hit, John Leguizamo's Kiss My Aztec! at the Berkeley Rep and is looking forward to future projects, as he produces recordings and teaches masterclasses in the vocal arts.
Future projects could include writing music for Disney movies and working with notable composer Hanz Zimmer on a movie soundtrack recording. Aloise is also co-writing a book for actors/singers, Bel Canto Meets Broadway, aimed at helping them sing properly and healthfully to sustain their voice for years during their careers on stage. "Cruise ships may also be in the future. We'll see," he said. "I've enjoyed every moment of this journey and look forward to the next chapter, whatever that might be."