UCSF Shuttle Schedules Revised
---
Published on November 15, 2017
---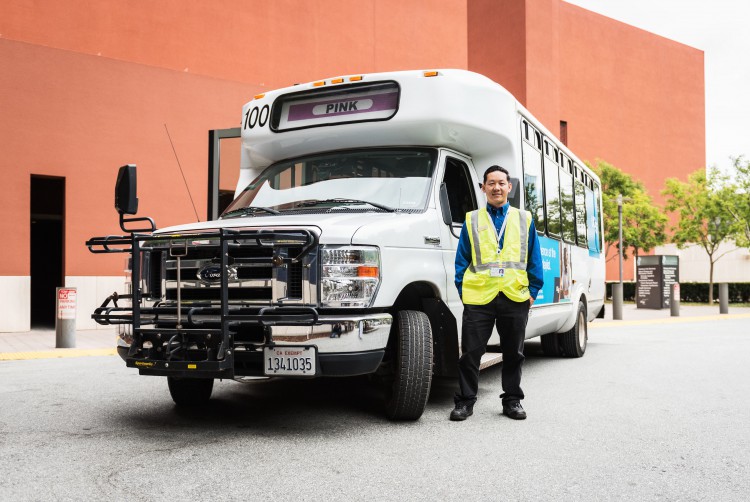 The UC San Francisco shuttle service began operating on revised scheduled Nov. 27. In addition, UCSF Transportation Services has introduced a new commute portal.
Updated Shuttle Timetables
Minor adjustments to the timetables are made annually to reflect new road construction projects, changes in traffic patterns and known congestion points across the city and to improve and maintain on-time performance. UCSF's shuttle system transports approximately two million passengers a year on 16 routes, the largest and most complex shuttle system in the UC System. Changes this year include:
• Continuation of the Red Express. This pilot project was launched last April. Adding a dedicated shuttle between the 16th Street BART Station and Mission Bay during peak commute hours improved service and helped alleviate congestion at the Mission Center Building.
• Continuation of the Blue/Gold Express. This pilot service will continue during peak commute times. The Blue Express serves Mt. Zion to and from Mission Bay while the Gold Express serves Parnassus to and from Zuckerberg San Francisco General Hospital and Trauma Center. Based on demand, these lines could be become permanent in FY18-19.
• Converting 499 Illinois St. into an "on demand" stop. To request service, riders should utilize the Ridecell mobile application platform.
New Integrated Commuter Portal
The new commuter portal, mycommute.ucsf.edu, is a one-stop source for all your commuting needs whether you use public transportation, bike, walk, or carpool. Users will find rideshare, carpools, bus schedules, and the quickest bicycle and walking routes all in one place.
"The commuter portal will serve as our platform to integrate alternative transportation applications and introduce services such as Scoop and Waze, to allow users to easily connect with one another to create new or join existing carpools or vanpools," said Erick Villalobos, director of Transportation Services. "The commute portal is accessed via UCSF's (single sign-on) authentication process to allow our community to participate in challenges, incentives and leaderboards, to encourage and promote the use of alternative transportation modes," Villalobos said.
It's important for riders to allow adequate time when utilizing the shuttle system. Shuttles may be delayed due to unforeseen circumstances such as traffic, weather, wheelchair loading/unloading, and other factors.

For up-to-the-minute alerts, including travel delays and holiday schedules, please follow Transportation Services on Twitter and Facebook (@goucsf). The latest schedules are also available on your mobile phone by downloading the latest version of the UCSF Mobile App.