Returning to the Classroom: UCSF Shuttle Drivers Train on New Electric Buses
---
By Robert Hood on January 14, 2019
---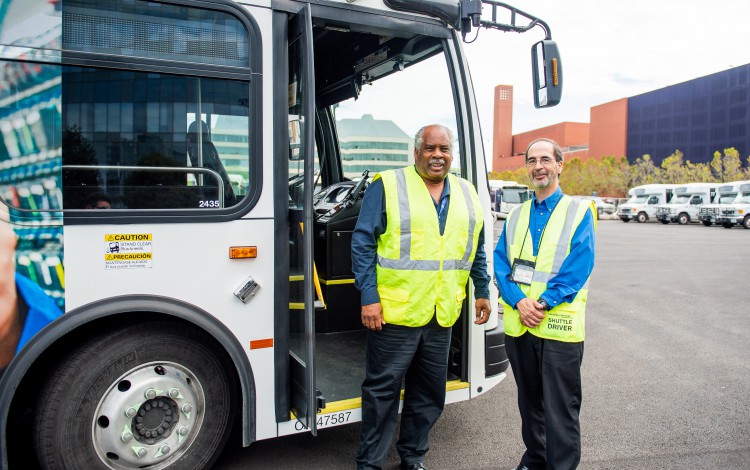 UC San Francisco's Steve Dozier is an experienced coach driver, having worked for Bauer's Transportation driving large motor coaches. So, Dozier was eager to get behind the wheel of the new electric buses being introduced at the university.
The University invested $8.2 million, after state and local rebates, in 15 new buses, EV chargers, electrical infrastructure and transit yard enhancements. The 30-foot battery electric buses run for 200 miles per charge and can be fully charged in less than three hours. They can also fit 45 to 50 passengers which should reduce wait times during peak hours on popular lines.
Dozier (photographed above, left) and Jose Suarez (right) are among the first drivers at UCSF to undergo five days of training to prepare for the new fleet. A total of 52 drivers will be trained by the end of the year. Next year the remaining 52 drivers will undergo training.
"Transportation Services is committed to providing comprehensive training for all our shuttle drivers and 'Safety Above All' is our culture," said Erick Villalobos, director of Transportation Services. "Our drivers are professional drivers and the 40-hour program is designed to provide regimented and specific training on how to drive our new 30-foot battery electric vehicles."
The new buses, built by Build Your Dreams (BYD) in California, look similar to compressed versions of city transit buses and have cushioned seats, wide aisles and room for 45 to 50 passengers, including standees. Like city transit buses, they are large and heavy and passengers sit high off the ground, making them remarkably safe.
Passengers will be able to disembark through the rear doors, making it faster to clear the bus during busy commute hours. The wheelchair ramp is also more efficient and the bus can accommodate two wheelchairs at a time.
Suarez said training began in the classroom and then moved to the transit yard and eventually to city streets.
"We spent most of the first day in the classroom," Suarez said. "We spent time learning the technical aspects of the vehicle and how it operates."
Following the classroom training, drivers learned how to inspect the new vehicles, something they are required to do each day before getting behind the wheel. "We have daily inspections of the current shuttles but the new electric buses are different so it's important that we understand what to look for in the inspections," Suarez said.
The drivers spent one day learning how to maneuver the larger buses through an obstacle course of cones. "We didn't leave the parking lot," Suarez said. "We learned how to parallel park, back the buses up, and curb the vehicles. It needs to be second nature when we are driving our routes."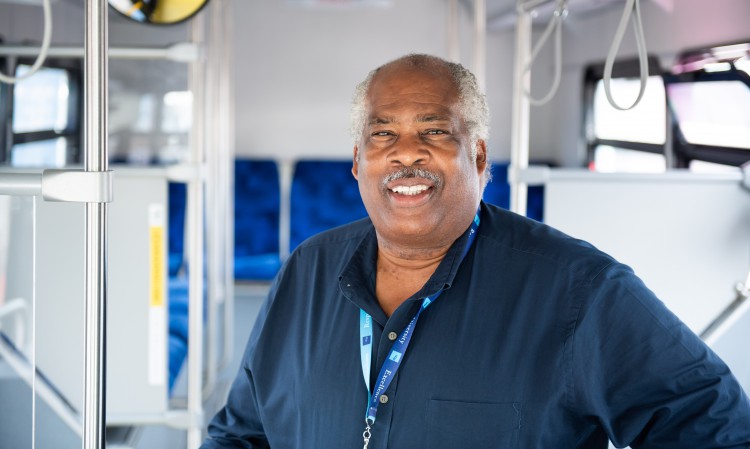 On the final day of training, drivers took the new buses on the Red, Grey and Gold routes.
Dozier said passengers are thrilled with the new buses. "It's a very smooth, quiet ride," he said. "Using the air brakes coming down 17th Street makes a big difference. We can literally coast to a stop."
For the time being, drivers are taking it a little slower as they get used to the new vehicles, Dozier said. "As we drive them daily, we'll get used to maneuvering the new buses and become more comfortable with them. It's just going to take us some time to get used to them."