Proof of COVID-19 Booster Now Required for Indoor Dining at UCSF
---
By Robert Hood on January 13, 2022
---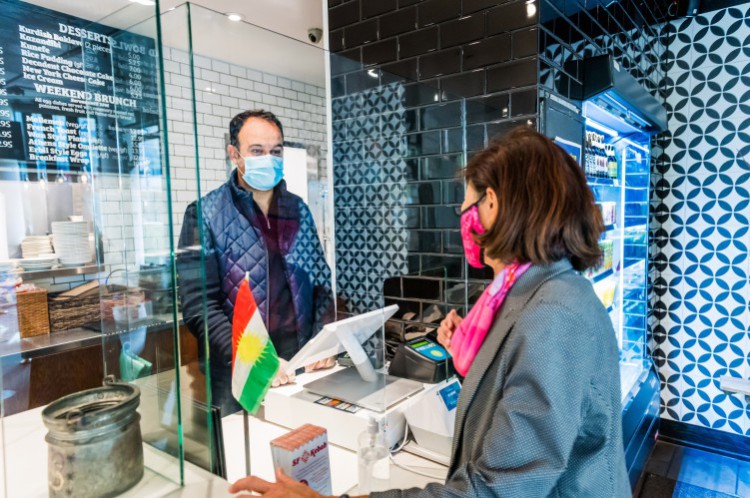 Marco Sanchez, UCSF Documents & Media
Diners wishing to eat indoors at campus eateries are now required to show proof of full COVID-19 vaccination, including a booster shot. This requirement does not apply to hospital cafeterias, as these cafeterias are subject to requirements set for by the San Francisco Department of Public Health (SFDPH) for hospitals.
The SFDPH Public Health order that was updated on Jan. 10 asks dining establishments to ensure patrons are fully vaccinated and boosted. If you would like to dine indoors at a Campus Life Services dining establishment (such as the Millberry Union food court, SF Kebab, Peasant Pies) you must show proof of full vaccination and booster shot, once eligible, in order to be seated to eat inside.
As a reminder, acceptable proof of vaccination includes:
• UCSF ID with COVID2 sticker plus green square for booster (UCSF employees/students)
• Original, copy, or picture of your CDC vaccination card
• Documentation from a healthcare provider
• Personal digital COVID-19 vaccine record issued by the State of California or by an approved private company
• Individuals must also show a photo identification (driver's license, passport, or UCSF ID)

UCSF customers may show an approved UC Approval of Request form for a Medical Exception, Disability Exception, Religious Objection, or deferral based on pregnancy in the form of a paper copy and/or photocopy on a mobile device.
Last August, the SFDPH required restaurant customers over the age of 12 to show proof of a COVID-19 vaccination before they could dine indoors. Customers also were required to wear a well-fitted face mask when ordering and/or waiting or picking up "to-go" orders at a San Francisco restaurant.
"We appreciate everyone's cooperation when asked that you verify your vaccination status, now including the booster," said UCSF Retail Services Manager Tamara Villarina. "We are all in this together!"