Peasant Pies Named San Francisco Green Business
---
Published on October 20, 2017
---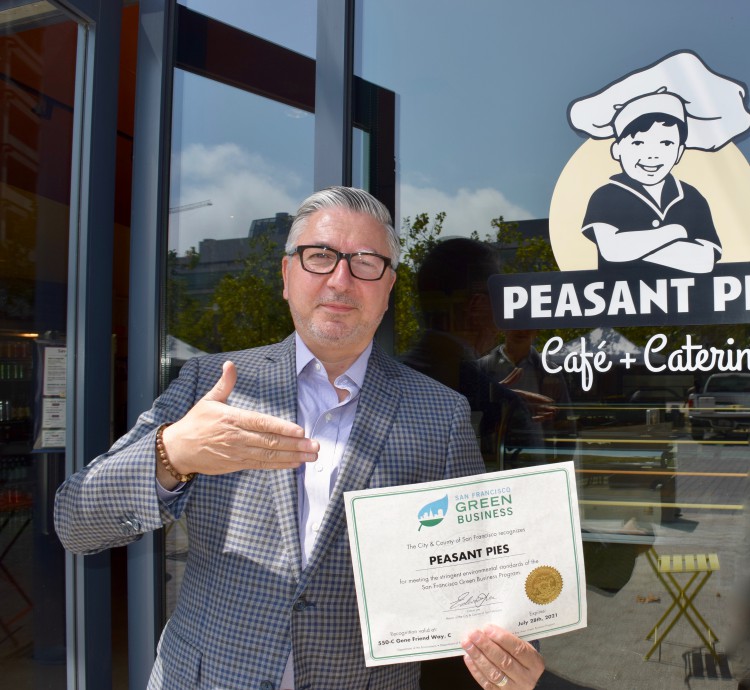 Customers may not notice the difference, but Ali Keshavarz, owner of Peasant Pies, has painstakingly revamped the Mission Bay restaurant to meet the city's strict environmental standards to earn the designation as a San Francisco Green Business.
"We changed everything from our light bulbs to our faucet heads and our cleaning supplies," Keshavarz said. "It took us about three months to complete the process."
Peasant Pies will be recognized by the City of San Francisco along with other green businesses at a special ceremony on Feb. 9, 2018.
Completing the process to earn the designation as a green business had less to do with business and more to do with Keshavarz's personal philosophy. "I practice the principles of sustainability at home so it made perfect sense to do the same at my business," he said. "The foundation of my business is built on sustainability."
When UC San Francisco eliminated the sale of sugar-sweetened beverages from its onsite cafeterias, food vendors, and vending machines, Keshavarz was a big supporter. "Serving healthy food and drinks is our core concept at Peasant Pies," he said. "We provide homemade, healthy, fast food that is not expensive and is convenient to eat on the go. It's working-class food you can eat with your hands."
Keshavarz believes earning the status as a green business also fits for a vendor at an academic institution like UCSF. "The idea of sustainability ties directly to the academic mission of the institution. It's a perfect marriage."
Keshavarz has a deep connection with UCSF. When his daughter was born in 2004, she had a medical condition that required her to be in and out of the hospital. During that period, Keshavarz developed a special relationship with the people at UCSF, the doctors, support staff, everyone he came into contact with.
"They literally saved my daughter's life," he said. "They gave us a gift."
It was then that he knew he wanted to be part of the UCSF community and he began working with Campus Life Services to develop a store at the new Mission Bay campus. Peasant Pies opened in 2009.