Paul DeLucca: The Master of Pipes Under Parnassus Heights
---
By Robert Hood on April 01, 2019
---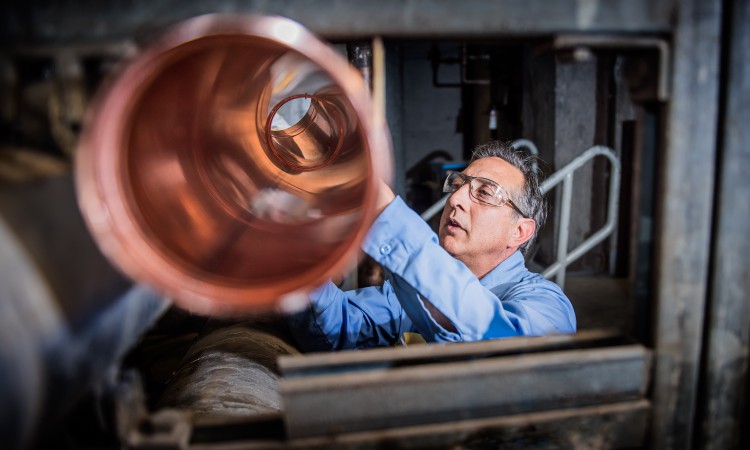 Marco Sanchez, UCSF Documents & Media
The 1989 Loma Prieta earthquake changed lives in the Bay Area, including Paul DeLucca's.
"I was working as a plumber in San Mateo County and my father was a plumber at UCSF," said DeLucca. "He called me right after the earthquake and said a pipe joint had broken that supplied heating and hot water to the baby ward on the 15th floor of the hospital. He asked if I could take a look at it."
DeLucca arrived at the Parnassus Heights Campus in the middle of the night and found a narrow access to the pipe. "None of the plumbers on campus could fit through the access to make the repairs and with all of the earthquake damage around the Bay Area plumbers weren't available. My dad knew I was just 140 pounds and could probably slip through."
DeLucca was lowered through the access and made the repairs necessary to return heat to the newborns in the hospital. "For the next six months I was on-call 24 hours a day fixing gas lines, boilers, and plumbing from Gilroy to Santa Rosa. Soon after, I was offered a job at the university and I've been working here ever since."
When DeLucca (photographed below with plumber Doug Bauer) started at UCSF, the university employed 25 plumbers, 25 carpenters, and 20 painters. Today, DeLucca serves as an assistant supervisor as well as the senior plumber at Parnassus. Over the years, maintenance teams have shrunk as outside contractors were hired. "It's probably a better business model," he said. "Project managers can compare bids and there's more accountability. We have a very lean workforce."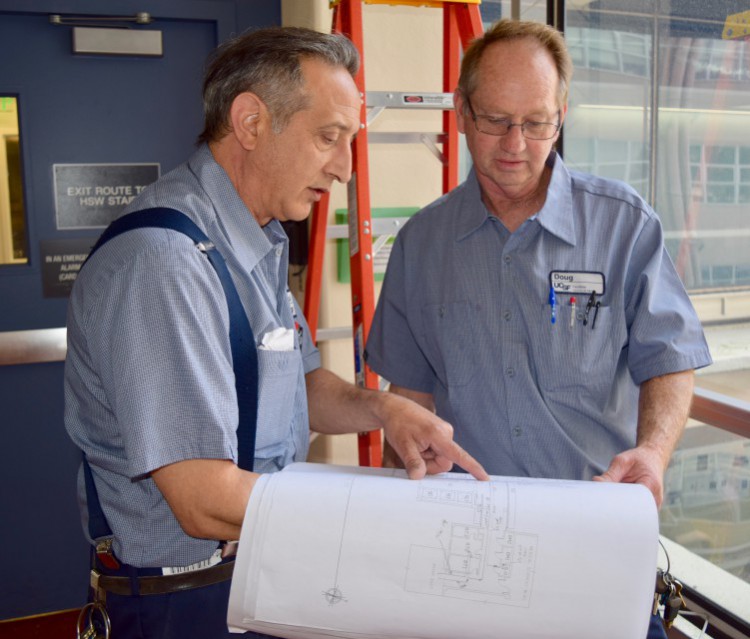 There are currently four plumbers, two carpenters, and two painters working at Parnassus. "We stay busy," he said with a laugh.
While there are fewer tradespeople, DeLucca said he appreciates leadership's willingness to listen to frontline staff. "We're on campus every day and understand the older buildings at Parnassus. Maric Munn knew that we could save the university money because of our knowledge. Jon Giacomi also listens. When we had sewer problems at the School of Dentistry, he asked me what we should do and sent a design team to help resolve the issues. I feel like there is a partnership between the frontline staff and the Facilities management team."
When it comes to the pipes under Parnassus, nobody knows more than DeLucca.
West Campus Operations Manager Michael Jang said DeLucca is always telling him, "I'll take care of that." And true to his word, he always does.
"Whether it's a broken water fountain or supporting a Real Estate project, Paul will always find a way to complete the work," Jang said. Recently, there was a sewer issue at Millberry Union and the Millberry Fitness & Recreation Center. A vendor completed the inspection and came to the conclusion that a repair could not be completed right away. "Paul, with his in-depth knowledge of the sewer system, was able to provide a bypass system to keep the sewer system running," Jang said. "Paul and another plumber stayed into the early evening to complete installation of the bypass."
Josh Winzeler, architectural condition assessment inspector at Parnassus, said DeLucca knows every twist and turn in the plumbing system at Parnassus. "With all of his years of experience, there is no plumber on campus, or the world for that matter, that knows more about the plumbing at UCSF's Parnassus Heights Campus than Paul DeLucca."
DeLucca and his team are currently working on the emergency eye-wash system in Health Sciences, upgrading hot water tanks in Medical Sciences, and making upgrades to the ventilation system across campus.
"I enjoy my job and the team I work with," DeLucca said. "There is a sense of satisfaction knowing that we contribute to the larger mission of the university."