Paddling and Kayaking Questions, Answered
---
By Sophia Labeko on September 03, 2020
---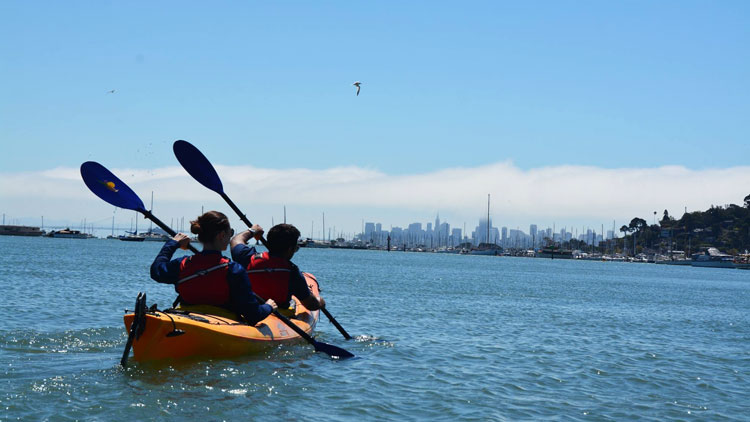 Staying active, exercising, and being outside is imperative to our health. The list of benefits ranges from improving cardiovascular system to reducing stress. The possibilities of outdoor activities are also endless, meaning everyone can find something to enjoy.
Kirk McLaughlin, the Outdoor Programs Manager, for Fitness & Recreation is an expert in all things outdoor. He's been running the program for over 10 years and unbeknown to him, has been dedicated to its mission for the last thirty years. From leading kayaking and rafting excursions to backpacking with children, he's the expert you want on your outdoor team.
The Outdoor Programs strives to, "provide access to the outdoors. Taking into account very busy lives and the need to provide a balanced lifestyle, from the stress and the challenges we often encounter," says Kirk. The program is instrumental to students, who need an outlet to release stress, connect with peers, or just stay active. Read what the Outdoor Programs means to one student.
In support of its mission, the Outdoor Program commissions activities like climbing, kayaking, camping, and hiking. The extent of what they can do is best previewed through the collection of pictures on their Facebook page.
At the beginning of the pandemic, to prioritize the safety of the community, all activities were halted. However, as research continues to advance and more safety measures are being put in place, the program is ready to reunite on the water, with students and Fitness & Recreation members.
Offered Activities
Kayaking and stand up paddling (SUP) are the perfect duo for getting outside safely. Both must be done al fresco, where the air circulation is maximized, and being in your own vessel is conducive to physical distancing.
To learn more about kayaking and stand up paddling, we asked Kirk some fundamental questions.

Q: Do you prefer to SUP or kayak?
I prefer kayaking–it was my first water sport. I like the balance of the arms, it's like dancing on the water.
Q: Does the group travel together? How far does it go?
Due to the nature of our paddling area, which is at Mission Creek with very close proximity to the open bay–our actual paddling area is pretty short. Our trips are never longer than two hours. The idea is that we're paddling from the launching dock, out to McCovey cove, sometimes we'll go around the corner by South Beach. The farthest we'd ever go is to the Bay Bridge. But even that's just two miles. The trips are short in nature.
Q: What if I fall into the water?
The kayaks and the SUPs we use are very easy to just climb back onto from the water. So, if you fall into the water, you just climb back on top. However, if anyone has any difficulties, there's always a guide present to assist you or to retrieve a paddle that got away.

Q: Kayaking seems like a leisure activity but what do you think? What are the physical benefits?
The beautiful things about kayaking is that you can determine the level of challenge by how fast you paddle. So, while it can be relaxing, almost meditative; it can also be a great upper body activity. It's perfect for people who are experiencing knee or ankle injuries or chronic problems. With kayaking you're using shoulder muscles that you often don't use and with development of proper technique, paddling is a fantastic ab and core workout.
Q: How many people fit in one kayak?
Our kayaks are all sit-on-top variety and can be adjusted to accommodate one, two, or even three people; with a small person in the middle. Family members or people in the same household are welcome to share a kayak.
Q: SUP looks tough–what are some tips for people interested in trying it out, but are unsure of the challenge?
Paddle boarding can be a really good core workout. The boards are much more stable than they initially appear. We ask everyone to start on their knees, get a feel for using the paddle, steering the board and as you feel more comfortable you can stand up. If you feel unstable, it's very easy to go back to your knees. SUP is a very accommodating way you get on the water. And once you get conformable it's a great perspective to feel like you're walking on water.
Q: What muscle groups work when paddling?
Because you got a surface that's moving, you're incorporating all of your leg and core muscles, just by standing and keeping your balance. If you develop good paddling technique, you're working your upper back, shoulders, biceps, and triceps.
Must Have Bonus Question
Q: Can my dog come paddle boarding?
Yes! They just need their own life jacket. We see a lot of people with dogs on paddle boards and they just sit there and get paddled around.
Register and learn more on the Outdoor Programs website.