Nine Projects Chosen as 2021 First Impressions Winners
---
By Robert Hood on January 07, 2022
---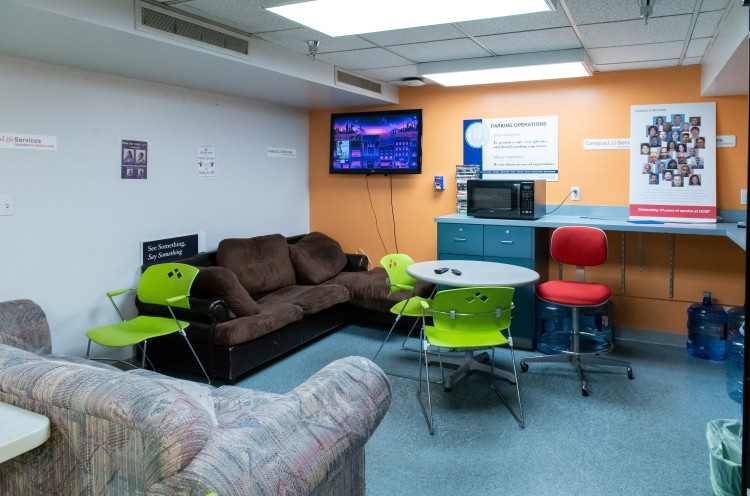 Marco Sanchez, UCSF Documents & Media
Break rooms at Parnanassus and Mission Bay have been chosen by Facilities Services to receive up to $15,000 in this year's First Impressions Contest. There were 20 submissions and, for this year's contest, applicants were asked to focus on faculty, staff, and student break room spaces. Winning submissions included:
• School of Pharmacy Break Room
• Epilepsy Break Room
• Byers Hall Third Floor Break Room
• Environmental Health & Safety Kitchen Space at Parnassus
• MU P7 Lobby Area
• Mount Zion Courtyard
• Break Space at Mission Bay
• Break Space at Parnassus Heights
• Mission Bay Housing Custodial/Trades Break Room
Residents in the School of Pharmacy are already enjoying the modern look of the newly improved break room in the Residency Office. It was one of the first projects to be finished. "The residents like the new clean and modern look of the space," said School of Pharmacy Operations Analyst, Julie Erich. "While compact, it has everything that's needed and is much more delineated than the open space and hodgepodge effect of the previous set-up. New paint and carpeting complete the refreshed look."
Erich said the Residency Office now has a clean and modern look. "The Residency Office now has a properly designated space for folks to eat lunch, have tea or coffee with friends, or just take a break. Compared to the previous space, it's much more modern with a breakfast bar and barstools, proper counterspace for the microwave and coffee maker, and cabinetry to keep items neatly organized and stored out of sight."
Housing Services Meetings & Events Manager, Emily Lefson, said the Housing staff is very excited to have the custodial and trades break room at Mission Bay selected as a winning submission. Improvements will include the installation of new flooring, new paint, the removal of large file cabinets and a new bulletin board.
"The space wasn't originally a break room," Lefson said. "It was built as office space and has evolved into a break room, office space, locker space, and storage area. People use the room because it's about all they have. We want to create a true break room space for both Housing employees and our Facilities team that works within Housing."
Housing Facilities Supervisor, Girod St. Martin, said there are many benefits to creating a space that is truly designated as a break space. "By upgrading the kitchenette, it becomes a more useable and appealing space to prepare your meal. By removing the cabinets that are no longer used and moving in a larger table in the center of the space, it creates a place for people to connect, chat, and get to know each other. It feels like a welcoming space."
Chris Langer, associate specialist in the Abate Lab, said upgrades to the Byers Hall third floor break room will help provide some privacy for Zoom meetings along with a wellness area for stretching, meditation, and weight lifting. "We use the break room all the time," he said. "People eat breakfast and lunches in the room, we use it for Zoom meetings and we do some stretching in that space."
In its first three years, the First Impressions Contest has transformed 36 campus eyesores into inviting spaces that enrich the working environment at UCSF.