New Software Will Improve Arrival Prediction Times for UCSF Shuttles
---
By Robert Hood on October 30, 2018
---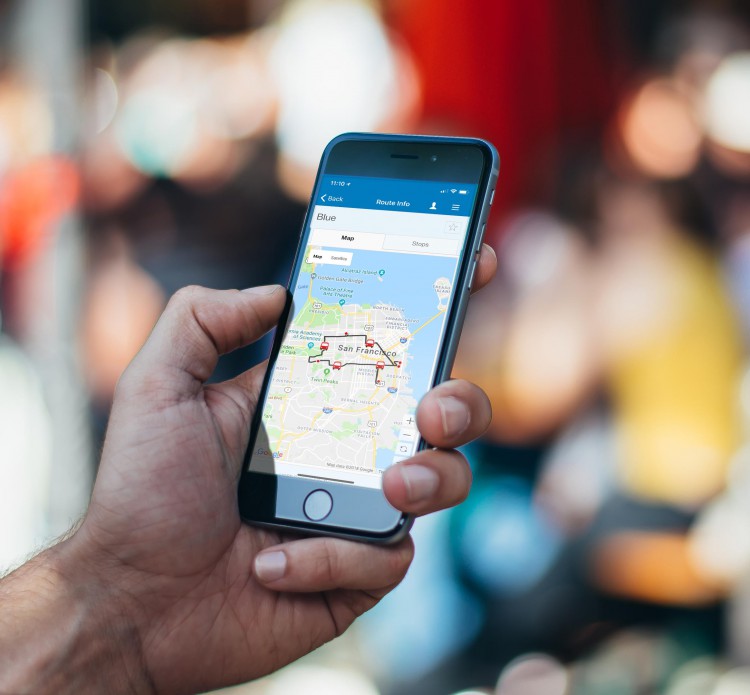 Marco Sanchez, UCSF Documents & Media
After working behind-the-scenes for the past six months to collect more accurate shuttle data, UC San Francisco Transportation Services is reintroducing "Live Shuttle" to help update passengers with real-time estimates on arrivals and departures.
The new software works seamlessly with UCSF Mobile and Live Shuttle will automatically be updated in the Go tab. UCSF Mobile can be downloaded on Google Play or the Apple App Store. "If riders currently use UCSF Mobile, there is nothing they have to do to take advantage of Live Shuttle," said Kevin Cox, compliance manager at Transportation Services. "It will be a seamless transition to a new experience." Digital signs in building lobbies and the Transportation Services website will also be updated. Electronic banners at UCSF shuttle stop shelters will also be updated in the future.
Cox said Transportation Services is switching to Live Shuttle due to ever-changing traffic conditions in San Francisco. "Our previous software could not predict shuttle arrival times whenever a shuttle deviated from its normal route. That left our passengers in the dark and predictions – oddly enough – became unpredictable."
Cox said the new software gives passengers accurate shuttle updates with real ETAs no matter which alternate route a driver takes, when he or she has to navigate around traffic congestion, road closures or other traffic hazards across the city.
Live Shuttle operates with a GPS device mounted inside the vehicle, tracking it at all times. The new software will send the shuttle's location every second and it aligns with Google Traffic for additional arrival prediction accuracy. "Additionally, when a shuttle is delayed, Live Shuttle will provide riders updated information with an updated arrival time," Cox said.
"Transportation Services is committed to improving our shuttle services by leveraging technology to 'make your life better' at UCSF," said Erick Villalobos, director at Transportation Services. "We know that our customers count on our shuttle network, and we're pleased to be able to provide Live Shuttle to significantly improve the customer experience."