New Signs Direct Waste to Appropriate Bins
---
By Robert Hood on May 17, 2018
---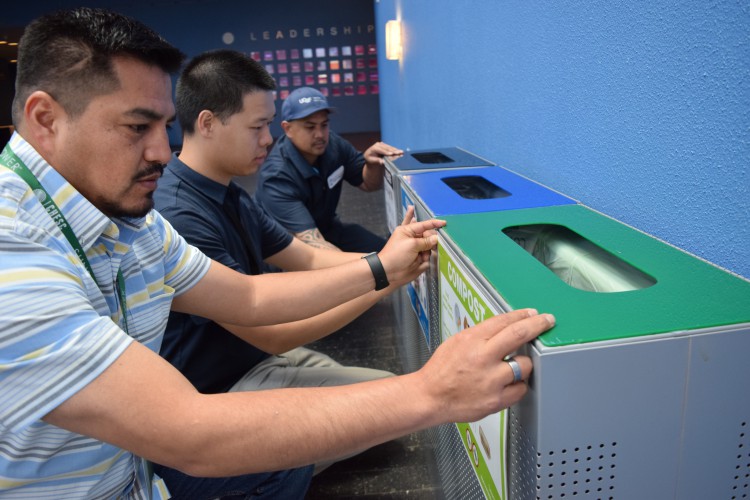 New signs are popping up on the recycling, composting, and garbage bins around campus as UC San Francisco works to minimize the materials sent to landfills.
"Juice boxes, ice cream cartons, and coffee cups are some of the materials that can now be discarded into the blue recycling bins," said Pablo Ortega, a recycling analyst for the university. "We're asking that the university community pay close attention to the signs when discarding their waste to make sure everything finds its way into the right bin."
Recology, San Francisco's waste hauler, tested the new program for months before rolling it out to the entire city. Over the next two years, Recology will gradually switch the bin configuration at homes throughout the city.
The City and County of San Francisco and UCSF have ambitious zero waste goals and partnering with Recology is part of that strategy, said Gail Lee, UCSF's sustainability director. However, partnering with the community is critical for the zero-waste goal to be achieved. "It will take the entire UCSF community to support these efforts to reach the goal of zero waste by reducing, reusing, recycling, and composting," Lee said.
Focusing on compost is an important part of the overall strategy to reduce waste, Lee said. "Removing compostable material from the landfill where it creates methane, a potent greenhouse gas, allows us to use it as a soil amendment, where it actually sequesters carbon from the atmosphere."
Ortega said the university is making an effort to educate the campus community by rolling out a number of messages aimed at making sure the correct material is disposed of in the appropriate bins.
"We're introducing an educational campaign this month," he said. "In coming months, we'll focus our message on specific items, such as coffee cups."
Used coffee cups are a big problem on campus. "They are often tossed in the wrong bins," Ortega said. "We're replacing thousands of signs behind the bins to help people identify the correct bin for their waste, including coffee cups."
The U.S. is the biggest landfill producer in the world. While the country has just five percent of the world's population, it generates 40 percent of the world's trash. On average, every American produces about five pounds of trash per day.
"Our goal is to produce zero waste by 2020 but we need to change our habits."
You can learn how to sort your waste by visiting the UCSF Office of Sustainability's Recycling & Waste Reduction page. The zerowaste.ucsf.edu site also provides tips and tests to help you sort through the updated rules.