New Electric Vehicle Charging Stations Installed at Parnassus
---
Published on August 07, 2018
---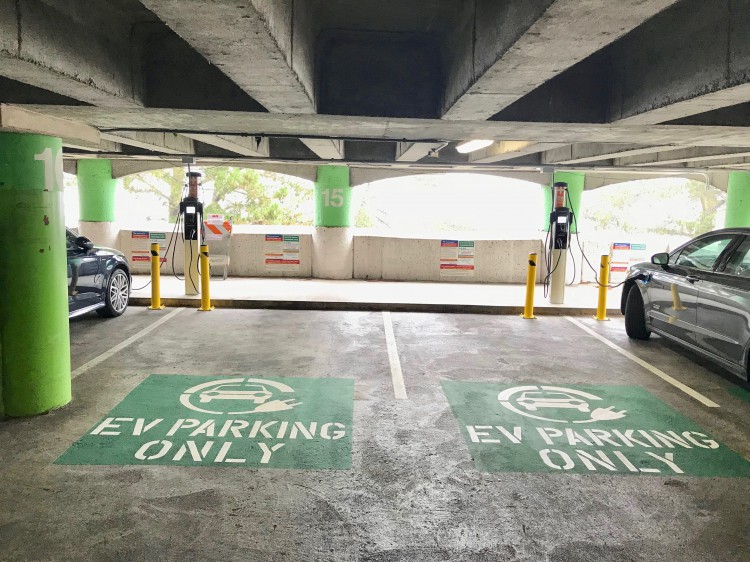 Twelve new ChargePoint EV Chargers have been installed in the permit-only ACC garage at Parnassus. The expansion of EV charging stations directly supports UCSF's 2025 carbon neutrality goal and better services an increasingly large number of electric vehicle customers.
The new chargers are designed to serve permit holders in the ACC garage. The chargers are located in the northeast corner of the garage on levels P5 thru P7. There are four chargers on each level.
According to the UC San Francisco Transportation Services annual commute survey, 3.75 percent of UCSF faculty, staff and students reported using all electric vehicles. Further, 11.75 percent of respondents reported using alternatively fueled vehicles, including hybrid, plug-in hybrid, compressed natural gas and biodiesel vehicles.
To use the new chargers, drivers must first sign up for a ChargePoint access card. The cost to charge vehicles is $1.25 per hour. EV stall use and charging is limited to four hours maximum per day, per vehicle.
Senior Parking Operations Manager Wayne Kwan said the chargers are popular with drivers so it's important to adhere to the four-hour time limit. "EV chargers provided on campus are intended to be shared use," he said. "In order for all UCSF EV owners to have an opportunity to access the chargers, please limit your charging session to four hours maximum per day. I want to thank everyone for their understanding."
The university is in the process of reviewing current electrical load capacities and requirements to update parking garage and surface lot facilities to support expanding EV charging stations, said Director of Transportation Services, Erick Villalobos. "The challenge is providing electrical infrastructure to support new or additional EV charging stations, especially in UCSF's older garages like the ACC."
According to the State of California's 2016 Zero-Emission Vehicles Action Plan, California is one of the world's largest markets for Zero Emission Vehicles (ZEV). Market trends and industry research indicate that sales of all-electric and plug-in hybrid vehicles in the San Francisco Bay Area region will continue to grow through 2025. The State of California has mandated that 15 percent of all new vehicle sales be Zero Emission Vehicles by 2025, as part of the state's comprehensive climate action plan. Providing additional EV stations at UCSF supports anticipated demand and reduces barriers to adopt zero emission vehicles.