Mission Bay Shuttle Stops Have Moved
---
Published on January 17, 2018
---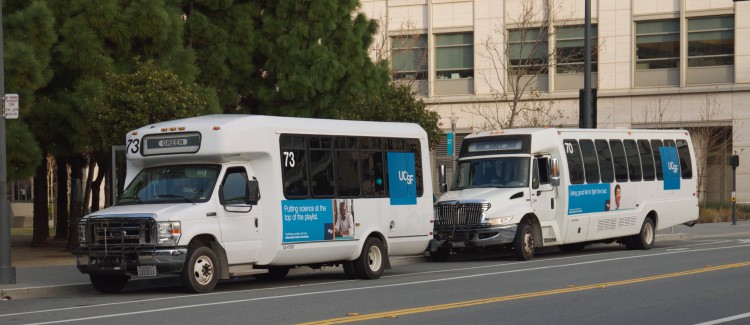 All shuttle stops along 4th Street in Mission Bay have moved one block north to the covered areas of Rock Hall (west side of 4th Street) and UCSF Housing (east side of 4th Street). The photograph below illustrates the previous shuttle stops (shown in red dotted boxes) and the new shuttle stops (shown in solid red boxes).
The stops have been moved to accommodate the next phases of the Utility Extension Project (West side) and the construction of the Joan and Sanford I. Weill Neuroscience Building (East side). The new Joan and Sanford I. Weill Neurosciences Building at Mission Bay will be one of the largest neuroscience buildings of its kind. During construction, shuttle service, parking options, and street and pedestrian traffic will be impacted.
It's important to note that shuttle schedules will not be impacted and all pick-ups and drop-offs will happen at new locations. The side of the street you board or disembark the shuttles will not change. Shuttle ambassadors are available during peak commute hours to assist and answer questions.
For more information, please visit the transportation construction impacts page.