Life-Changing Diabetes Prevention Program Gains National Recognition
---
By Robert Hood on January 14, 2021
---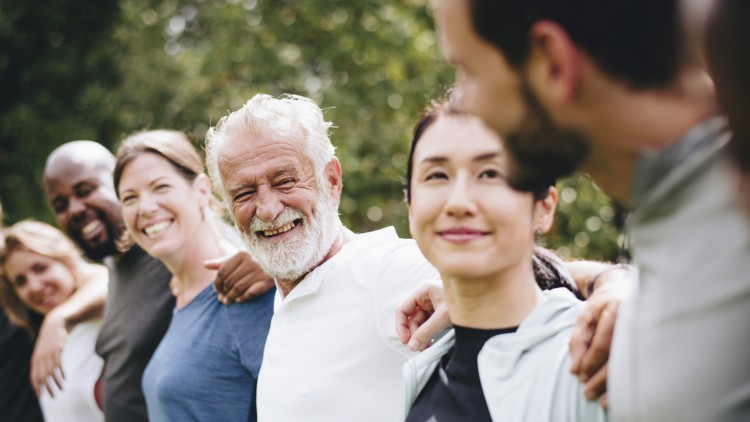 UC San Francisco's Diabetes Prevention Program has gained full recognition from the Centers for Disease Control and Prevention for its ability to help participants change their lives.
"Full recognition means we've met the requirements for administering the program including ensuring our participants meet the CDC eligibility requirements, minimum number of participants, attendance, weight loss, physical activity minutes, and frequency of data collection," said Wellness Coordinator Kathleen Yumul. "We are now listed as a fully recognized DPP site on the National CDC Diabetes Prevention Recognition Program Registry."
UCSF joins UCLA, UC Davis, and UC Santa Barbara as the only fully recognized DPP sites across the UC system.
For UCSF DPP participant Frederick Parsons, an institutional analyst in Human Resources Information Systems, proof that the program works is evident when he steps on the scales. "I lost 73 pounds under the program and have lost an additional nine pounds since. Now it's much easier to perform normal functions such as getting in and out of a chair. Life was much harder when I weighed over 300 pounds."
Arun Sharma, a faculty member in the UCSF School of Dentistry, has lost 50 pounds in 11 months on the program. "I feel energetic and I have committed to more than 60 minutes of exercise every day. It is a very good program that teaches you in a very simple way how you can control, reduce and maintain your weight and reduce the risk of becoming a diabetic."
UCSF's first DPP cohort started in January 2019, at Parnassus. The program now has 83 people enrolled and 55 participants have completed the program. "We currently have three cohorts in progress and are recruiting for another cohort that is scheduled to start in May," Yumul said.
To join the next cohort, visit tiny.ucsf.edu/dpp.
Terry Vincent, has been a principal surgical technologist in the operating room at Parnassus since 2001 and was a member of the latest DPP cohort. And while she lost weight, changed her behaviors, and developed a new mindset, the most important aspect of the program was the relationships she developed over the year.
"We started our cohort in person but because of the pandemic, we ended up on Zoom," she said. "Even though everything was different, our group still stuck to the commitment to live a healthier life. We shared very personal moments with each other with the assurance that everything was always confidential. We relished each other's successes and learned lessons from our failures. I will always remember my cohort."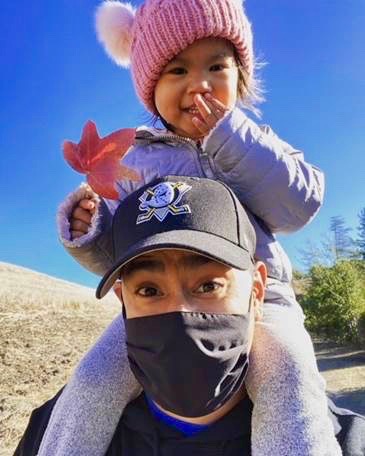 Yumul said participants have mentioned that group support and sharing has been a huge contributor to their success. "It's one of the most appreciated aspects of the program," she said. "The support and motivation provided by the lifestyle coach has been appreciated by participants as well. Participants have also mentioned that it is helpful to go through this program with other UCSF people who understand what it's like to work in our environment. People also enjoy meeting and connecting with people outside of their departments and circle of people they interface with at work."
Daniel Camagong (shown above with his daughter), a clinical systems analyst in Clinical Systems Integrated Applications, has worked five years at UCSF. Over the years he's gained weight and developed unhealthy eating habits and, while his health was a big motivating factor for joining the program, he also became a new father. "I wanted to show my daughter that I was a healthy dad."
Camagong has lost nearly 30 pounds since beginning the program and developed better habits. "The program has proven to me that having a regular exercise routine, tracking food, drinking water and counting calories has helped with my energy levels and weight loss."