UCSF Police Captain Wakes Up, Works Out
---
By Robert Hood on December 03, 2019
---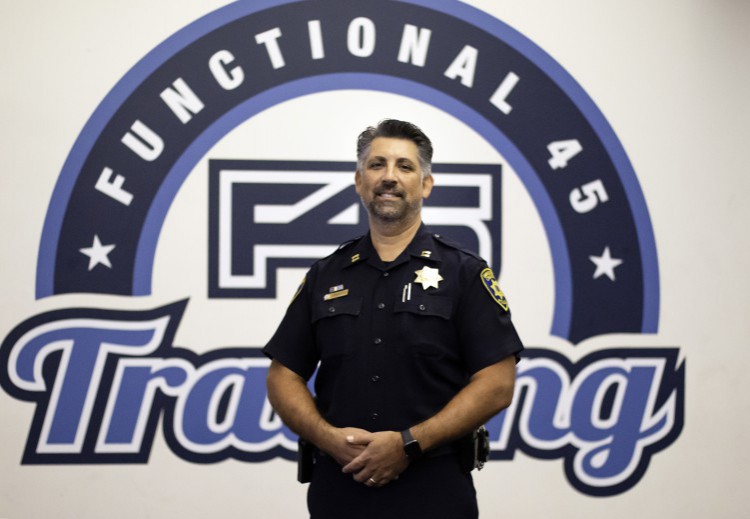 If it's early in the morning, you'll likely find UC San Francisco Police Department Captain Eric Partika swimming laps at the indoor pool at the Millberry Fitness & Recreation Center at Parnassus or sweating to the music at an F45 class at the Bakar Fitness & Recreation Center at Mission Bay.
"I enjoy getting my workout finished first thing in the morning, which I find really sets me up with good energy for the rest of the day," he said. "Once I have my morning workout complete, I feel like I'm prepared for a productive day."
Partika arrived at UCSF in 2008. Prior to that he worked for the CSU-Chico Police Department for 10 years. "Before joining the Chico State Police Department, I worked for three years as a deputy sheriff in Calaveras County."
Partika and his wife both grew up in the Bay Area and were ready to come home when he accepted the job at UCSF. He now oversees the sworn police officers, detective unit and 911 Emergency Dispatch Center at the university.
Prior to work, Partika can usually be found at Mission Bay for the 6am F45 class. The F45 training program was introduced at the Bakar Fitness Center just over a year ago. It combines elements of high-intensity interval training, circuit training, and functional training. The fusion of these three training concepts has led to the development of 31 different, 45-minute workout experiences featuring 3,000 exercises.
The class is offered at the Bakar Fitness Center five times per day Monday through Thursday; three times on Friday; twice on Saturday and once on Sunday.
"The early morning class isn't crowded, and I get my exercise done early," he said. "I like F45 because it's already organized, fun and challenging at any level. Plus, it's efficient. In 45 minutes, I get a much better workout than when I would spend an hour on my own in the gym."
Partika said he enjoys the peacefulness of swimming at Millberry a couple of times per week combined with the high-intensity F45 workouts at Mission Bay.
"What I like best about being a member at the UCSF fitness centers is having access to great equipment with the latest technology, the option to swim, and F45 classes. The diversity helps me stay motivated."
For more information, or to join, please visit the UCSF fitness & recreation centers.