Laurel Heights Volunteer Team Boost Staff Morale Through Events And Activities
---
Published on April 01, 2016
---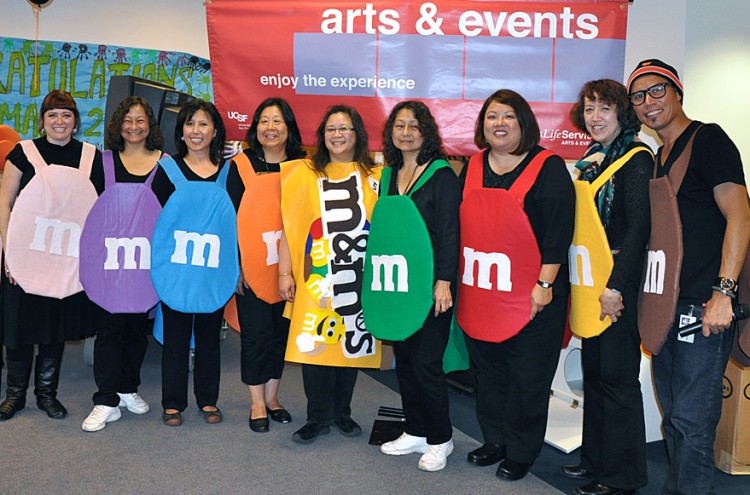 Exit the elevator on the second floor of Laurel Heights and make your way to The View Café and you immediately notice several tables filled with information about upcoming UCSF employee activities. This is the handiwork of Desiree Yip, Aileen Tam, and Cindy Cheng, longtime Laurel Heights' employees.
"Work should be fun," said Yip, pointing to the pamphlets, flyers and posters announcing everything from art exhibits to movie showings. "Our goal is to spread the word about all of the events Campus Life Services, Arts & Events makes available at UCSF."
The three have been working with Campus Life Services' Arts & Events staff to bring fun activities to Laurel Heights for years. They've organized everything from the annual Halloween party and costume contest to ice cream socials and creating Valentine's Day cards for hospital patients.
"The volunteer team at Laurel Heights put their heart and soul into planning activities and take pride in knowing that they have contributed to these events," said Pilar Deer, Program Coordinator for Arts & Events. "They're the main reason we're able to get the word out at Laurel Heights on our discount program and events. We couldn't do it without them."
Tam said activities organized by Arts & Events are the primary way to provide fun activities and boost staff morale in the workplace. "These events give employees an outlet - a way to de-stress - and a way to connect with people outside of their immediate work area."
While social events don't generate profit or provide education, they help employees come together and have a good time, Cheng said. "Work can be stressful and we need to increase the morale within our work environment. I wanted to improve our emotional well being when I joined the Laurel Heights Volunteer Team about nine years ago. I met people outside my department. I was able to see many happy faces of fellow colleagues when they attended events at Laurel Heights."
Research in 2014 by Gallup shows that focusing on employee engagement and well being together helps companies and organizations maximize productivity. According to the research, when companies add a well-being focus to their engagement program it helps boost their individual, team and organizational performance and can cut down on employee health costs.
Joey Convento, Volunteer and Program Producer for Arts & Events, said it wouldn't be possible to coordinate 80+ events annually without the dedication of campus volunteers. "Volunteers are the backbone of Campus Life Services' Arts & Events."
While the Laurel Heights staff enjoy all of the events, Yip said, Halloween is the biggest celebration. "We have door decorations, a costume contest, and a lunch. A lot of work goes into the costumes. The employees really enjoy spending time together and it helps build morale at Laurel Heights."
Convento said the Arts & Events Volunteer Program is designed to provide an opportunity for staff, faculty and students to offer their time, energy and creativity to plan and produce experiences that transform a routine day into something special and fun for the UCSF Community.
To learn more or to become an Arts & Events volunteer, please visit the Arts & Events Volunteer web page.