Landed Opens Doors for New UCSF Home Buyers
---
By Campus Life Services on August 02, 2021
---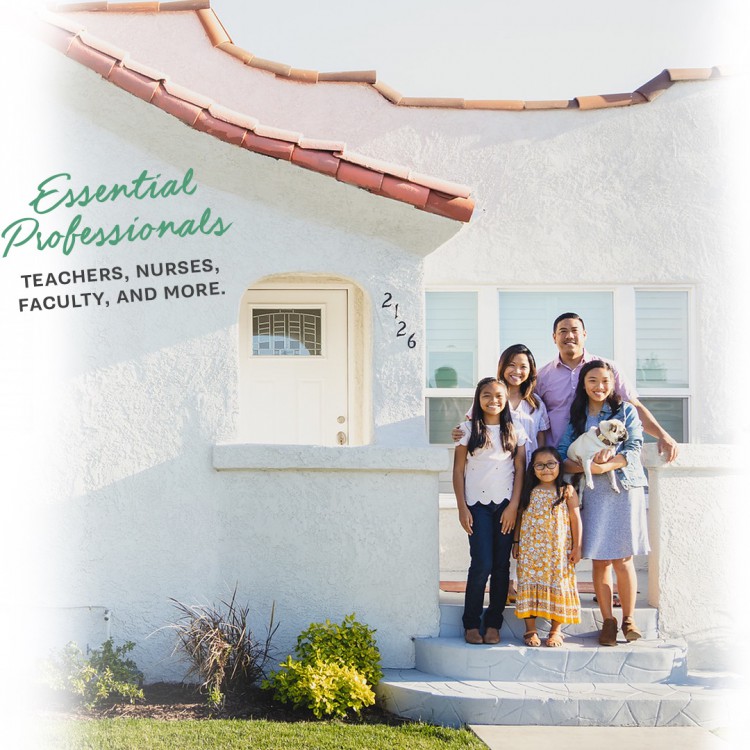 Among the Bay Area's newest homeowners are 35 UCSF employees who used Landed, Inc. for home buying support. An additional 101 UCSF employees are actively working with Landed in anticipation of purchasing a home. Hundreds of other UCSF employees have attended a Landed information session to learn more.
The Landed program for UCSF employees launched in October 2020. Details, including upcoming information sessions, are posted on Housing Services' website.
"We've been thrilled to help 35 UCSF employees enter the expensive Bay Area market with down payment support, expertise from our team, and the guidance of partner agents," shared Ian Magruder, director of partnerships at Landed.
Prior to October 2020, only faculty with academic senate appointments and senior management staff had access to home loan programs, all through the UC Office of the President. Now, with Landed, UCSF staff – the university's largest employee population—also have access to a home buying support program. Faculty and trainees are also eligible to use the Landed program, as are employees working at UCSF's affiliates such as Zuckerberg San Francisco General and Benioff Children's Hospital in Oakland. The program was needed to help with the retention and recruitment of talent given the high cost of living in the greater Bay Area.
In late 2019, Housing Services organized workshops during which staff were asked to share their housing needs. Several staff commented about their eagerness to purchase a home, but their barrier to entry was primarily the down payment requirements.
"These workshops may have been the birthplace of UCSF's Landed partnership," commented a UCSF executive assistant who works in Financial and Administrative Services and benefitted from Landed's program when it launched a few months after the workshops. "UCSF and Landed, Inc. are the two key reasons my husband and I put our fears aside and started our search for our first home. In the Bay Area, it's tough to save up for a down payment plus closing costs," she said.
Among the positions at UCSF that have benefit from Landed's program, the largest percentage have been nurses and other advanced practice professionals, though many different positions from across the UCSF enterprise have leaned on Landed.
To date, 44 percent of UCSF's Landed homebuyers identify as Latinx or Black.
"A key goal in connecting employees with Landed is to help underrepresented minority staff gain access to home equity over time," said Clare Shinnerl, senior associate vice chancellor for Campus Life Services. "It is widely documented that homeownership is essential to closing the generational wealth gap between Caucasians and Asians who are more likely to own a home in California than Blacks and Latinx. To that end, UCSF is committed to lowering barriers and making equity in housing a reality by connecting employees with Landed."
The self-reported average household income of those UCSF families who used Landed to purchase a home was $167,500 a year.
On average Landed provided $101,780 in down payment support. Homeowners share equity on the portion of the home that is funded by Landed.
Recently, Landed announced that it has increased the amount of support it will provide to $120K or 15 percent of the purchase price. This offer is available for prospective homebuyers who sign a Welcome Letter with Landed by September 30, 2021. The additional support provided by Landed is timely, as Bay Area home prices continue to increase and a larger down payment may be needed. Normally, Landed funds a maximum of either $100K and $120K, depending on the timing of the purchase.

Landed is hosting a series of additional info sessions this August and UCSF employees are welcome to join to learn more.
● Thursday, August 19 from 10-11am PDT | Register
● Wednesday, August 25 from 12-1pm PDT | Register
The FAS executive administrative assistant commented that "After witnessing Landed's presentation for UCSF, our dream of owning our own home became realistically achievable! All members of the Landed and banking teams were very skilled, patient, thorough, and honest. They basically drew us a treasure map to the American dream!"