Kay Coelho: Saving Money on a Stress-Free Ride to Work
---
By Robert Hood on November 08, 2019
---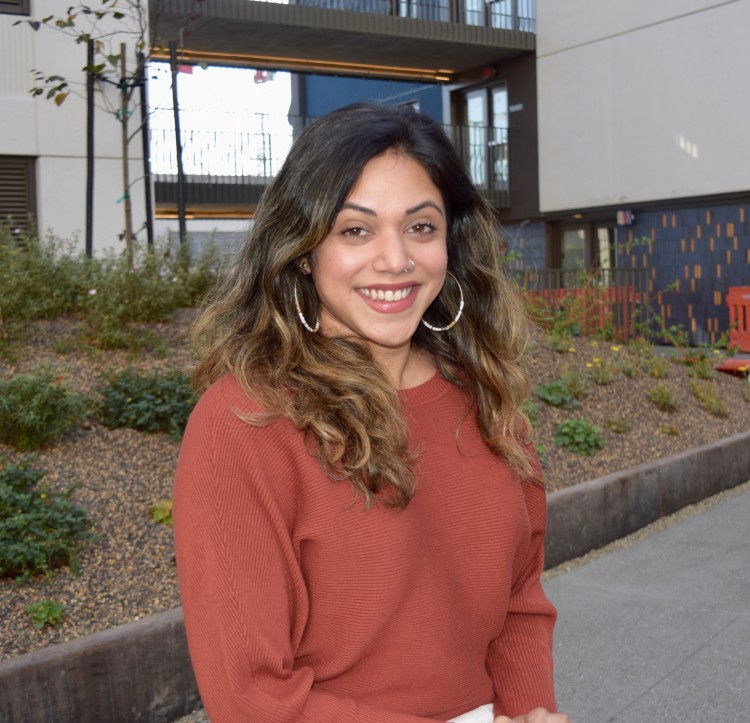 Robert Hood, Campus Life Services
A vast majority of UC San Francisco employees use the Transportation Services Pre-Tax Savings Program to set aside tax-free money to pay for commuting expenses such as paid parking, or mass transit. Kay Coelho, a project manager in Housing Services, uses the program to pay for a stress-free commute to work.
"I take an Uber or Lyft from Nob Hill to the Tidelands in Mission Bay," said Coelho, who has been a UC staff member for about seven years and a UCSF employee for the past 16 months. "It can take me about five minutes to find a commuter car and then about 30 minutes to get to work but it certainly saves me more time than taking MUNI!"
Coelho said she loves the ease of the commute and the fact that she's not stressed out by riding in a packed bus or light-rail car. "I love the ease of the commute and I'm not stressed out when I get to work. It helps me clear my head and I get to meet some really cool people in the rideshare and make new friends."
Coelho admits using a rideshare car is more expensive than public transportation, but she said it's worth every penny. "Being in a calm environment allows you to clear your head before coming to work, saves you time, and you can potentially take a short nap. I also don't have to worry about finding my Clipper Card in the mornings."
The commuter benefits program allows eligible UCSF employees to set aside payroll earnings on a pre-tax basis up to the limit set by the IRS for commuter expenses. After signing up for the program, UCSF Payroll deducts the amount specified by the employee from their pay before taxes are withheld. This saves employees money by reducing their taxable income. And, in good news for commuters, the IRS will increase the monthly pre-tax limit to $270 effective January, 2020.
"More than 4,000 UCSF employees save money on their commuting costs by participating in the program," said Georgina Arias, transportation demand manager for UCSF. "Rideshare is an affordable and convenient option compared to long transit rides or driving alone and paying for parking."
Getting started is easy:
1. Access your account at https://www.commutercheckdirect.com using the UCSF Company ID: 1550, and the debit Master Card will be mailed to you.
2. "Place an Order," choose the amount you want deducted each month pre-tax from your pay for your anticipated expense.
3. Use the card to pay for ridesharing, purchase transit tickets or passes from participating transit operators, or to pay your parking vendor.
Coelho said UCSF employees who are considering using their pretax commuter benefit account for rideshare have nothing to lose. "Do it for a month or two, see how it works and if you don't like it, just cancel it. It's convenient, efficient and a networking opportunity!"