Jessica Li Makes Life Better for Patients at the UCSF Medical Center at Mission Bay
---
By Robert Hood on May 02, 2019
---
Working as a parking cashier for the valet service at the UCSF Medical Center at Mission Bay can be a challenging job. Patients don't always understand they have to pay to park and, at times, they don't know exactly where they are going for treatment.
Despite her work-related challenges, Jessica Li greets everyone with a smile and understands that the patients she serves are facing much bigger challenges.
"They are coming to the hospital because they are sick," she said. "Sometimes they are scared. I want to make it as easy as possible for them to enter and exit the hospital and I want to make them happy with a smile."
Yat Cheung (photographed below with Jessica), parking operations manager, said it's always a pleasure to work with Jessica. "She understands what our customers need and provides her best customer services every day. We all appreciate her positive attitude towards work, and it makes our workplace more comfortable and enjoyable."
Jaime Mac is the evening parking supervisor and has seen Li assist valet patrons with information about parking and the hospital and even helping them find a bite to eat. "She's very good with our customers. I can always count on her to be on time and maintain a clean, neat work environment."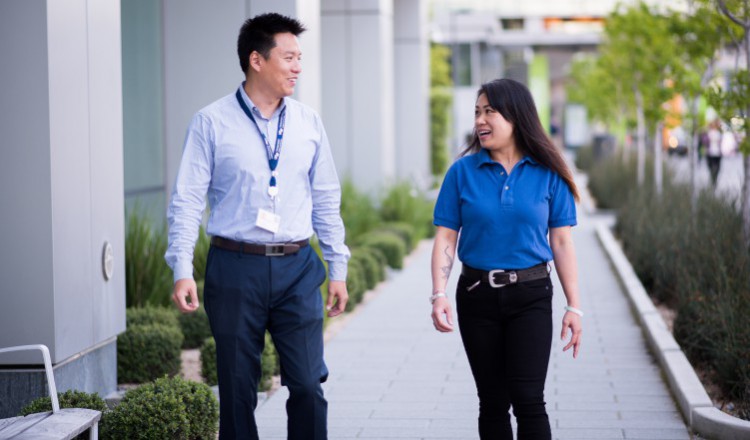 Li said she normally serves 80 to 90 customers a day but, when it gets busy, she can help as many as 130. Her daily routine includes collecting money from customers for parking and dispensing friendly advice.
"I have patients who are coming in for radiation treatments that I see every day," she said. "I have a good relationship with them."
Li's family moved to the Bay Area from Canton, China, 22 years ago. Her mom worked as a babysitter while her father managed a Chinese restaurant. That's how Li learned to love to cook.
"I like spicy food so I normally cook Thai or Korean," she said. "I learned to cook from the restaurant. I think salmon and sea bass are my two favorite things to cook but I also like to cook American and Italian food."
Li also spends time helping her 18-year-old daughter and 16-year-old son with school. Her daughter is studying medicine at UC Davis while her son is a junior in high school. "They both have really good grades," she said proudly.
Li said the opportunity to help patients and provide benefits for her family are the two things she enjoys most about working at UCSF. "I want to make sure everyone who comes into the hospital is greeted with a smile."