How One Photographer Navigated the COVID-19 Pandemic
---
By Sophia Labeko on June 01, 2021
---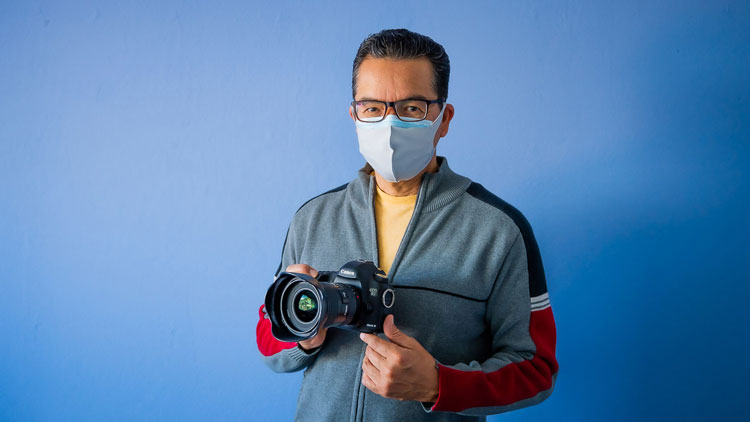 Images–one moment frozen in time, are capable of capturing emotions, history, and celebrations. But what happens when health and safety measures prohibit actions like hugs and masks cover cheerful smiles–two common image elements? Well, these barriers and restrictions spark creativity, of course while always prioritizing health and safety. Some final image results even become several moments frozen in time. Thank you, technology.
Marco Sanchez, a photographer with The Studio, UCSF Documents and Media's digital side, shares his experience of navigating the health and safety requirements while capturing the "it" shots.
The Before
Before any restrictions, this is what photography looked like.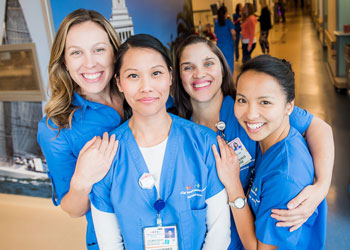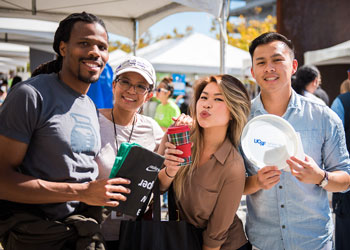 Sanchez went around, taking pictures of nurses, staff, events, services, and graduations. "I was able to say, 'let's have a big hug photo,' and so everyone would get together and hug. At the end, you get an image that shows it's not just a hospital, it's a community," he recalls when looking at the top-left image of the nurses.
The same idea applied to other group photos. The creativity and the emotions were unencumbered by fear. Sanchez was always busy lugging his equipment from one campus to another, editing images, and hustling to another photoshoot location.
The During
By April 2020, requests for photography plummeted. Events and celebrations weren't happening in the same manner and most of the world went virtual. Requests that did come in centered around capturing the pandemic's front-line workers.
There were clinicians, volunteers collecting and distributing PPE, UCSF Facilities Services changing air filters to make sure the air in buildings is clean, and so much more.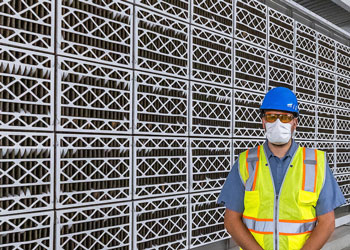 In some cases, the subjects who work together developed a working bubble, allowing them to narrow the physical distance, but Sanchez still had to maintain his space and adhere to all the health and safety measures.
Another challenge of being a photographer amidst a pandemic was communicating while wearing a mask. "Usually, if I want them to smile, I smile. It's contagious," said Sanchez.
The During with Technology
Around June, requests for group graduation photos started rolling in. "I said it was impossible because of the social distancing restrictions. The only thing I could do was take pictures of them individually and then, in Photoshop, put the group together," responded Sanchez. This has been done before, but not for these reasons. One downside to this approach is that there is no way to get the interactions, the "tactile comradery" previously possible.
So, he went to work. The graduates had specific timeslots, during which they quickly removed their mask, Sanchez remained double masked and at least six feet away. The pictures were taken on the same spot, the same day, and the same time of day. Because light matters.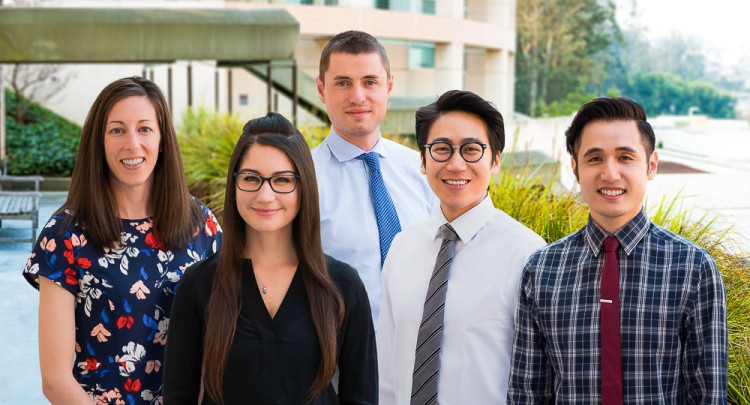 Wherever DM used the image, it came with a disclaimer, "This image is photoshopped".
The During with Fans
Although the way of photography changed, the need to demonstrate services, safety, and capture historic moments remained. With many requests, Sanchez had to get creative in order to uphold all the health and safety measures.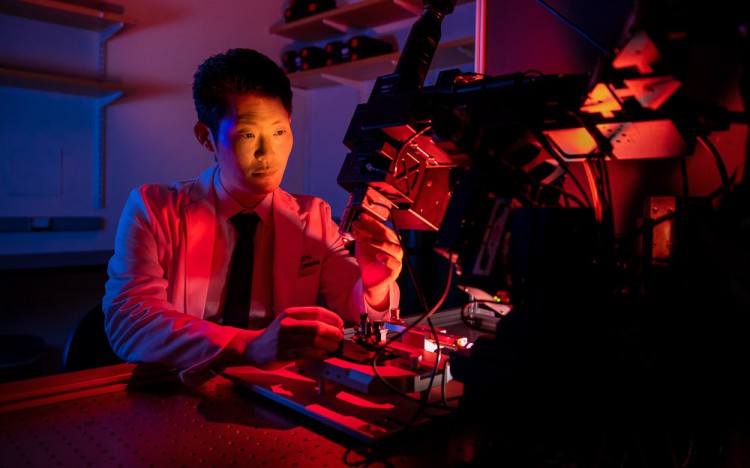 For example, when taking lab images only two people were allowed in the lab at once–Sanchez and the subject. While Sanchez remained distant and double masked, the subject would take off their mask for the duration of the shoot. And afterwards, before anyone could return to the lab, the space would air out for at least 20 minutes.
Portraiture has a very similar approach. Sanchez fanned out the room for 30 minutes before reentering.
Looking Ahead
With the vaccination rates increasing every day, and the infection rate decreasing, many health and safety measures are relaxing. As of now, May 2021, vaccinated people can be photographed sans-mask in a group. Thank you, science.
And while Sanchez still sees timidness and caution around the heartfelt embraces of the past, people are warming up to the idea of being near each other. He predicts that in another year, group and event photography expressions of comradery will come back stronger than before 2020. The lasting impact will be positive, "people will appreciate the fact that they can hug and the freedom to be close."

Keep up with Sanchez's photography by following UCSF Documents & Media on Instagram: @ucsfdm