Hop on (But Safely): Ford GoBikes Ready to Ride at Mission Bay
---
Published on December 21, 2017
---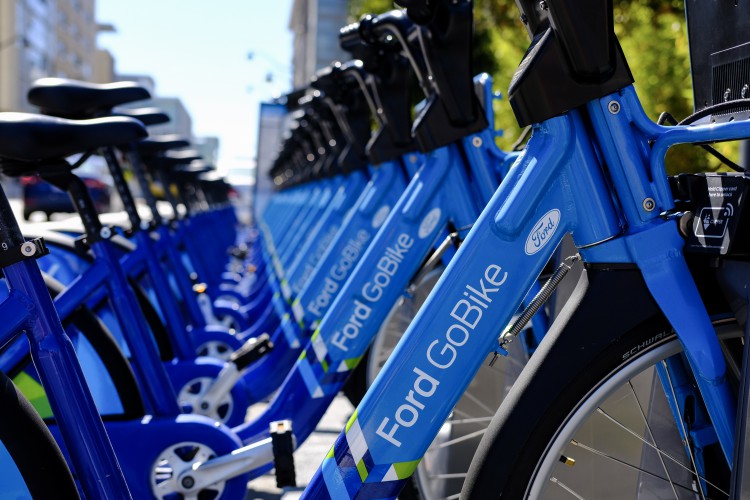 Ford GoBike pods are popping up around town, including new pods at Mission Bay and at Dogpatch. But ready availability also means that safety must be paramount as you you're your way through San Francisco's always crowded neighborhood streets.
Ford GoBike is the Bay Area's new bike share system, with thousands of public bikes for use across San Francisco. To use the system, riders can become an annual member or buy a single ride or day pass. To unlock the bikes, use a convenient mobile app or Clipper card. Riders can dock their bikes at any Ford GoBike station.
The new pods at Mission Bay and Minnesota Street provide an environmentally friendly, affordable travel option. "We understand this is a convenient and flexible way for students and employees to get around the city," said UCSF Transportation Services Rideshare Coordinator Phillip Kee.
While we're pleased that the City of San Francisco is offering great ways to get around town, before you push the pedal down, remember the rules of the road and ride safely.
Our friends at the San Francisco Bicycle Coalition have an excellent website to help refresh your knowledge of bicycle traffic laws. Among their guidelines to keep in mind:
• Stay on the streets (it's illegal to ride on the sidewalk)
• Wear a helmet
• Be sure your bike has reflectors and a front light when riding at dusk, dawn, or at night
• Go with the flow and ride in the same direction as traffic
• Always pass on the left – don't try to sneak between vehicles and the curb unless there is a marked bike lane
• Keep one ear free of headphones while riding
• Be sure to obey stop signs and lights just like all vehicles.
UCSF Risk Management and Insurances Services reminds you that safety starts with using a helmet. While helmets aren't included, members of Ford GoBike receive discounts from participating local bike shops whey they purchase select helmets. Other helpful tips include remaining visible, always staying alert and double-checking your bike to make sure your wheels and brakes are in working order.
As a UC San Francisco employee, it's important to remember that bicycles are for personal use only. They are not designed to replace the campus shuttle system which operates regularly and safely over the longer distances between UCSF locations. So, when traveling between campuses, employees should continue to use the free shuttles provided by the university.
For more information, or to sign up, visit Ford GoBike.