Frontline CLS Staff Receive COVID-19 Vaccinations
---
By Robert Hood on January 14, 2021
---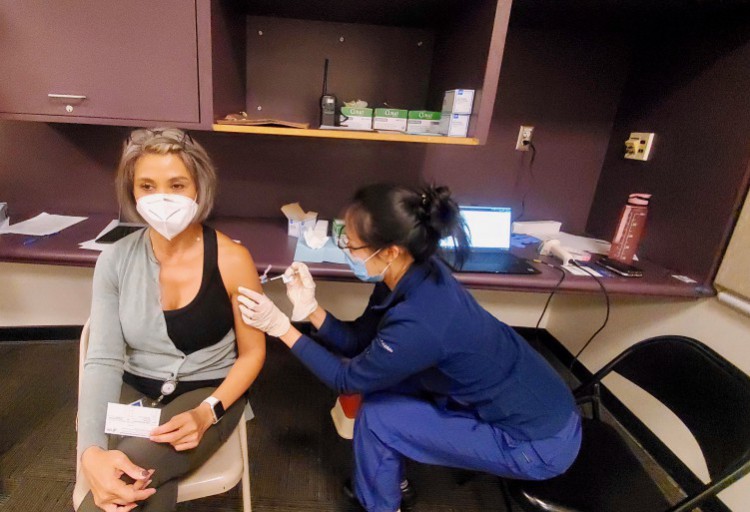 As a lead transit supervisor at UC San Francisco, Carlos Vides works on the frontlines driving shuttles for employees, students and patients. So it's no surprise that when his opportunity came up to receive the COVID-19 vaccination, he jumped at the chance.
After receiving its first shipment of Pfizer doses the morning of Dec. 16, UCSF quickly began vaccinating employees and learners at highest-risk for exposure to COVID-19 while at work.
Vides received an email on Dec. 31 letting him know he had been selected to receive the vaccination and he was in Mission Hall getting the vaccination on Jan. 4. "It happened pretty fast," he said. "Once I answered the health questions on the email it gave me the dates available to sign up."
When Vides arrived at Mission Hall there were no lines. "It was simple and convenient," he said. "The scary part was listening to the news reports about side effects, but once I got there it was very easy and everyone at the clinic was nice and helpful. I'm really lucky to receive the vaccination and accepting it shows my team of drivers that it's a safe and easy process."
Each day at both Parnassus Heights and Mission Bay campuses, the clinics are now vaccinating approximately 1,500 UCSF employees and learners whose on-site work puts them at highest risk of getting COVID-19. In addition, front line health care workers at Benioff Children's Hospital in Oakland have received the vaccine.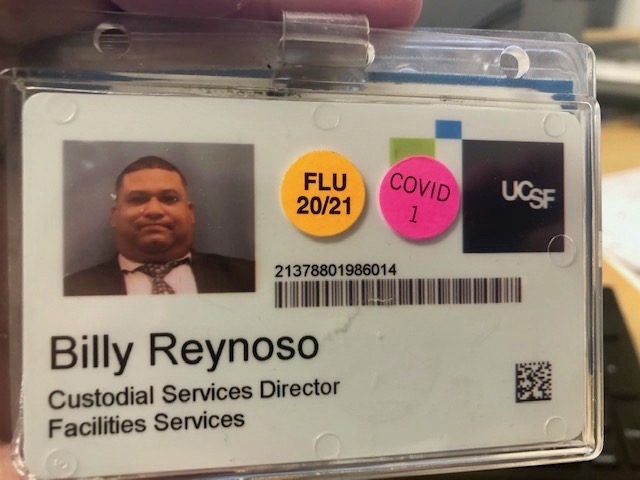 Custodial Services Director Billy Reynoso received his vaccination - and the pink sticker on his university ID - at the clinic in the Medical Sciences Building at Parnassus. "It was a very organized process, from signing in to exiting the location," he said. Reynoso said anyone who has questions related to the clinics or vaccines should talk to their supervisor. "Don't be afraid to ask for help from either your supervisor or the staff at the clinics." Reynoso said the experience was similar to receiving the flu shot with the exception of a 15-minute wait after receiving the shot.
UCSF already has vaccinated thousands of clinical and non-clinical front-line workers, including nurses, medical residents, hospitality and custodial/environmental services staff, social workers, COVID-19 researchers, as well as Campus Life Services staff such shuttle drivers, facilities and fitness center staff, among others. For updated information on UCSF's vaccine distribution process, visit this webpage.
Joanna Yee, a communications assistant at the fitness centers, is among staff redeployed to help out at the vaccine clinics since the fitness centers are closed. She serves as a runner at the vaccination clinic and has also received her vaccination. Yee recently shared her vaccination experience with UCSF in a YouTube video.
"My advice is to get vaccinated," Yee said. "Be part of the 70 percent of the population that needs to be vaccinated in order stop the spread of COVID-19. As I see the frontline staff come to get vaccinated and I see how excited they are and how painless it is, I'm convinced the vaccine is safe."
When you get an invitation that it's time to get vaccinated, Yee said expect to be greeted by some amazing people who ensure safety by following public health protocols of wearing masks, physically distancing and completing the daily health screener before coming on campus. "The best time to get vaccinated seems to be in the late afternoon. I have noticed it can be a little slow and you can get in and out in less than 30 minutes. After you get vaccinated, you'll need to stay seated for 15 minutes so we can monitor you in case of any reaction to the vaccine, so be sure to allow extra time."
Another transit supervisor, Edgar Rodriguez also received in vaccination along with drivers working on the front lines throughout the pandemic. "I had a great experience," Rodriguez said. "It was quick and easy and the whole process took about 25 minutes."
Facilities Services Infrastructure Programs Manager Josh Winzeler also joined other on-site facilities employees in getting the vaccine. "Many people don't realize that behind-the-scenes our facilities workers are the ones keeping the lights on and all the machines running for the medical staff and labs while we tackle this pandemic."
Winzeler was notified in MyChart and said the process was very easy. "I chose the earliest appointment time available, which was Saturday morning at 7:50," Once inside the clinic, Winzeler said he was asked to confirm his information and then waited about 10 minutes for the vaccine. "The process was very quick. You confirm your info with the nurse and they check you off in the system, give you your CDC vaccination record card, and your vaccine is given."
Winzeler said his arm was sore for a couple of days and he felt a "bit off" at times but said it felt ery similar to the annual flu shot. "Sometimes when I get the flu shot, I feel minor side-effects like being a bit tired and achy for a day or so, and other times I don't feel anything at all."
Gerri Nuval (photographed, top), who usually works as the assistant fitness manager, is now helping to manage the flow of patients and vaccine at the clinics. They also train new staff, monitor supply levels, retrieve vaccine for the vaccinators, monitor patients, and help employees and learners who are checking in at the clinics. She has also received the vaccination as a patient-facing employee.
"I have to be honest; I was a bit apprehensive," she said. "All day I thought, 'should I cancel my appointment?' But when the time came, I was around my support team and I felt good about my choice. I am honored to have received the vaccination and represent my fellow fitness professionals, my Filipino cohorts, my friends, and my family, and let them know that I feel safe and they should feel safe as well."