Fostering Engagement Through Volunteerism at UCSF
---
By Robert Hood on October 30, 2018
---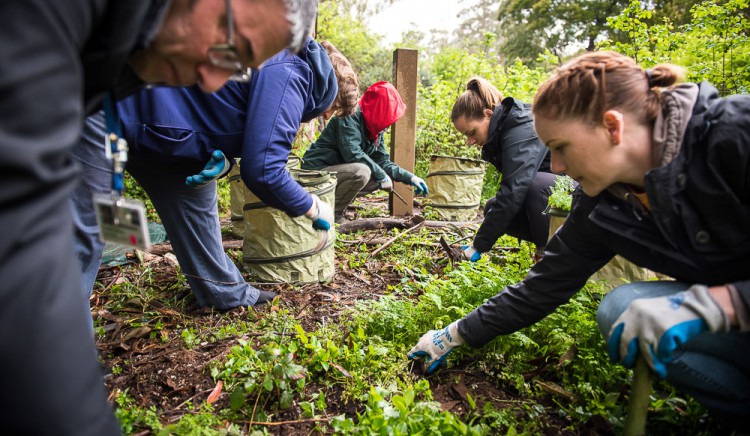 Campus Life Services has introduced UCSF Volunteers, a website to help UC San Francisco employees and managers find information to organize volunteer activities with their teams.
Volunteering with coworkers to help local nonprofits can be a rewarding experience. Licensing Associate Priya Ramu, Ph.D., with the Office of Technology Management at UCSF Innovation Ventures, recently volunteered with a team of 20 coworkers. They spent the afternoon at the Pennsylvania Street Gardens in the Potrero Hill neighborhood near Mission Bay.
"We walked from the office and took our hats and water bottles," Ramu said. "The staff at the gardens were extremely organized and split us into groups based on our physical abilities. They organized everything for us so all we had to do was show up."
Another UCSF group recently volunteered at St. Anthony's Dining Room in the Tenderloin. Several Atlantic Fellows for Equity in Brain Health based at the Global Brain Health Institute at the UCSF Memory and Aging Center (MAC) served meals along with some of their MAC colleagues to underprivileged San Francisco residents.
"Volunteering at St. Anthony's Dining Room was in alignment with both the mission of UCSF and the mission of our Fellowship," said Phaedra Bell, Ph.D. "Serving and sharing a meal with the Tenderloin community gave us brief but very personal insights into how living in poverty can impact a person's health and wellbeing. It was a very powerful experience, and we're grateful for their warm welcome."
Fellows Konstantina Sykara and Arnoldo Munoz agreed. "It was a rewarding experience," Sykara said. Munoz said having the opportunity to sit down with guests at St. Anthony's brought the learning experience out of the lab and into the real world.
Campus Life Services employees Dani Cambier and Laura Ishkanian said developing a website to make it easier for UCSF managers and employees to experience the joy of volunteering in the community is the impetus behind UCSF Volunteers. They were both part of the 2016 CLS Leadership Development Program cohort that made the site their capstone project.
Ishkanian said workplace volunteer programs have many benefits including a positive impact on employee engagement. "Volunteering together helps strengthen workplace relationships, increases the positive feelings of an employee for the employer, and connects to an individual's need for meaning and accomplishment."
Cambier said managers can work with their staff to use the site to identify volunteer activities that resonate with the team. The site features a list of suggested local non-profits with group volunteer opportunities. There are also contacts for Bay Area non-profit matching services and UCSF employees can even nominate different non-profits to be vetted to be added to the website.
"Our goal with the site is to make it very simple for UCSF employees to volunteer in the community," Cambier said. "We provide a manager checklist, general guidelines for volunteering, a link to the required waiver, and other important information. We also have a list of frequently asked questions and a way to provide feedback on your own volunteer experience."