For UCSF Nurse Cami Lenett, the Fitness Center is Community
---
By Robert Hood on April 29, 2021
---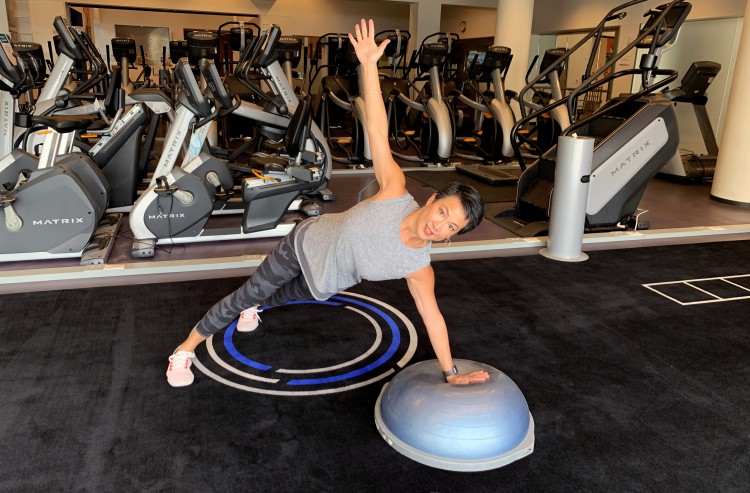 Megan Gonzalez
Cami Lenett, a nurse manager at the UC San Francisco Hematology Clinic, is the first to admit she hasn't missed the push sleds, battle ropes, and pull-up bars, but she has definitely missed the fitness community.
"I've missed the smiles and contagious energy in my Zumba and F45 classes," she said. "I always cherished the post-workout group endorphin high as we exited the studios, happily exhausted."
Lenett and other UCSF employees and students will have an opportunity to return to the Bakar Fitness & Recreation Center at Mission Bay on Tuesday, July 6. The center will initially open to UCSF students and employees. The California COVID-19 guidelines for higher education currently prohibit the general public from visiting campus sites.
Bakar and the Millberry Fitness & Recreation Center at Parnassus have been closed since the beginning of the pandemic in March 2020 with the exception of a brief three-week reopening in November before the second COVID surge.
"My gym-mates have become friends," Lenett said. "At various times, they cheer me on, help hoist my exhausted body off the floor, laugh with me while I try to talk myself out of giving up, and organize social outings to blow off steam and marvel at how nice we all look in 'real clothes,'" she said.
Lenett learned the value of consistent visits to the fitness center last year when she had major back surgery. "My long-term involvement in Zumba and F45 meant that I went into the procedure with a healthy body, heart and optimistic attitude. My recovery started just as the gym shut down, but I was able to focus on gradual recovery through the Zoom workouts and with continued support from my classmates and coaches.
Interim Director of Fitness & Recreation, Liane Wong, said Lenett's desire to reunite with friends at the fitness center is shared by the center's staff. "We miss our members," Wong said. "The students, staff and general public who frequent the fitness center are community. We can't wait to welcome them back."
When the doors open, Lenett said she'll be going straight for the Bosu balls, dumbbells and benches. "I've been doing bodyweight exercises at home, so certain muscle groups have gone dormant without weights. I'm looking forward to moving through space! It will be so great to have more than an eight-foot by eight-foot square to dance and work out in."