First Impressions 2020: Facilities Raises the Stakes
---
By Robert Hood on February 13, 2020
---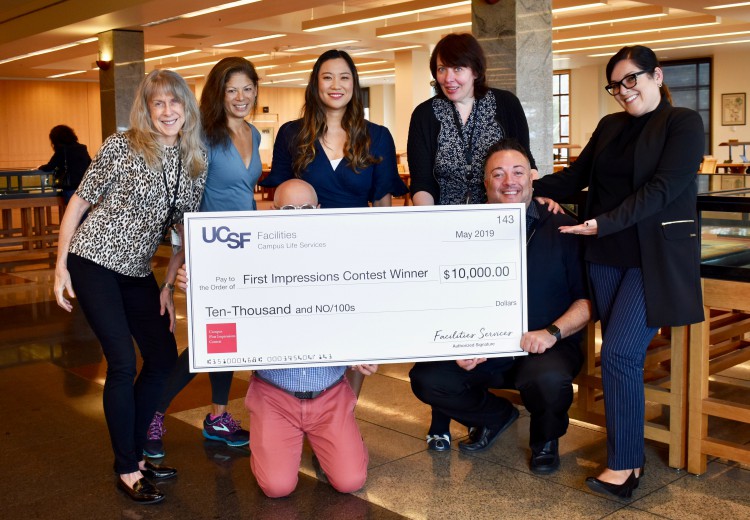 Over the past three years, the annual Facilities Services Campus First Impressions Contest has transformed 36 campus eyesores into inviting spaces that enrich the working environment at UC San Francisco. And this year, Facilities Services is raising the stakes to provide up to $15,000 per project, up from $10,000 offered in the first three years of the contest. The deadline for applications is April 15.
This year's First Impressions Contest will accept entries from both campus and UCSF Health! UCSF Health entries will be forwarded to appropriate leadership for consideration and campus entries will remain the same as previous years. Projects typically include one or more of the following: carpet, paint, deep cleaning, plants or landscape, or other similar items. To date, more than 36 projects have been completed!
Entries will be judged based on their overall impact, ease of delivery, and scope that is within the limit of $15,000 or less to complete. Entries should be for public spaces; private areas or offices will not be considered. Entries should demonstrate how they impact student, faculty, staff, or visitor first impressions of UCSF. Signage and art entries are not eligible, however, those entries will be forwarded to the appropriate department.
Examples of past projects include landscaping common spaces or sprucing up entrances to buildings, upgrading restrooms, renovating student lounges, and otherwise creating more inviting public spaces around campus. Entries with a high degree of public visibility will receive priority. Past projects include the School of Nursing mezzanine, UCSF Library lookout space beautification, Parnassus Heights landscaping, the entrance to Parnassus from the Irving Street MUNI stop, and the entry to the UCSF Dental Center.
Last year's contest drew 94 entries and a 17-member committee reviewed the entries and chose ten winners. There is a complete review of last year's winning projects on the Facilities Services website.
"We have been amazed by the interest and creativity expressed in the contest over the past three years," said Assistant Vice Chancellor for Facilities Services, Jon Giacomi. "Some departments make funny, but enlightening, videos in their contest submissions. This contest is a great way for us to engage the UCSF community and helps us prioritize projects that we may not have noticed in the past."
A committee representing various departments will choose the 2020 winners and will announce them in April. Submissions should be sent via email to .(JavaScript must be enabled to view this email address) and can include photographs or video showcasing the need for a facilities upgrade.