Energy Efficiency Measures at Byers Hall Earn Six-Figure Rebate
---
By Robert Hood on October 22, 2019
---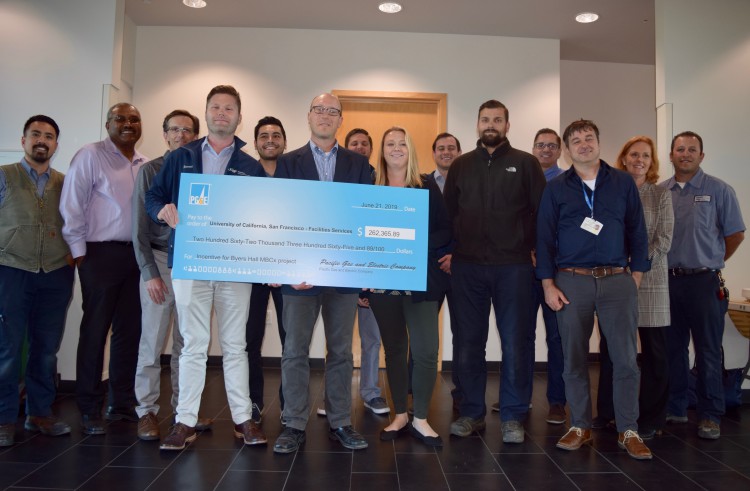 Pacific Gas & Electric officials were at Byers Hall recently to present a $262,365.89 rebate check to UC San Francisco Facilities Services for completing a variety of energy efficiency measures at Byers Hall.
John Rosendo, interim campus energy manager, said the facilities team completed 11 different energy efficiency measures which will save over one million kilowatt hours of electricity annually.
"This is approximately 12 percent of the building's total electric usage, which is the equivalent to the electricity consumed by 150 average California homes," he said. "The cost of the project will be covered in under two years by the energy bill savings and the rebate check."
Energy-savings projects at Byers Hall included updating the lighting schedule throughout the building, installing new motion sensors to turn down airflow when areas are unoccupied, reducing ventilation rates in non-lab spaces, and completion of a wind engineering study that results in reduced energy use in lab exhaust fans.
Alison Erlenbach, senior program manager in Government and Community Partnerships at Pacific Gas & Electric, said PG&E has partnered with the UC system since 2004 to promote energy efficiency. "We are proud to be able to incentivize these energy saving projects to create a cleaner and more sustainable campus environment for UCSF students and staff."
Andrew Meiman, founding principal at ARC Alternatives, has worked with UCSF on a variety of energy management projects. ARC Alternatives specializes in energy engineering, program management, solar energy, data analytics, and more.
"Since the beginning of the partnership in 2004, and in the past five and 10-year periods, UCSF is in the top five of the 38 UC and CSU campuses and health centers statewide for energy savings achieves," Meiman said. "In PG&E territory, UCSF is in the top three over the same time period."
Meiman said the energy efficiency projects implemented by UCSF have saved 29 million kilowatt hours and two million therms per year. Meiman noted that these savings were realized on the UCSF campus and were not combined with UCSF Health.
Meiman said energy efficiency in new construction project have achieved the highest combined electric and therm savings but monitoring-based commissioning (MBCx) have had the largest impact as a whole. MBCx uses building control and metering data within a building to reduce energy waste.
"While MBCx projects have accounted for only 17 percent of the total projects at UCSF, they've resulted in 40 percent of the incentives earned from combined gas and electric energy savings," Meiman said.
UCSF has been recognized for its sustainability efforts through the California Higher Education Sustainability Conference's Best Practice Awards, earning five awards in categories of Overall Sustainable Design (2006), Water Efficiency (2014, 2017), and HVAC Design and Retrofit (2009, 2016).