Emilie Van der Hoorn Finds Community on the Squash Courts
---
Published on October 16, 2017
---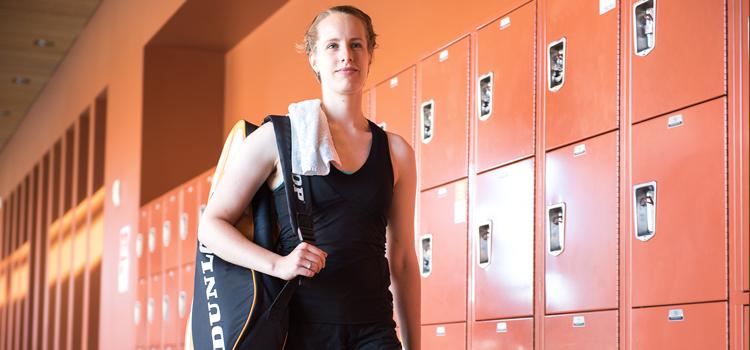 Emilie Van der Hoorn moved to San Francisco three years ago without knowing anyone, but with the help of the Bakar Fitness & Recreation Center at UC San Francisco Mission Bay and her love of the sport of squash, she's found community.
"We initially moved to San Francisco for my husband's work. He's a computer engineer and inevitably was drawn to Silicon Valley," she said. Van der Hoorn works as a private art conservator and works just a few blocks from the Bakar Fitness & Recreation Center.
Van der Hoorn was drawn to squash during grad school in England. "It's a much more popular sport there," she said. "Once I started playing, I fell in love with it."
Van der Hoorn said she's found a very passionate squash community in San Francisco and Bakar offers a good value, nice gym, and great people. "It's an incredibly dedicated group of players. They come from all backgrounds and all walks of life."
She enjoys the convenience of the courts at the Bakar and the low-key attitude of the local squash players. "They aren't super competitive and they are a lot of fun to hang out with both on and off court."
Van der Hoorn said just about everyone she knows in San Francisco she's met through playing squash.
When she's not on the courts, Van der Hoorn said she likes taking fitness classes such as BODYPUMP™. "It's such a great workout and completely different from squash. I always feel amazing after I've taken a class."