Electronic Scooters, and Safety Concerns, Return to San Francisco
---
By Robert Hood on October 11, 2018
---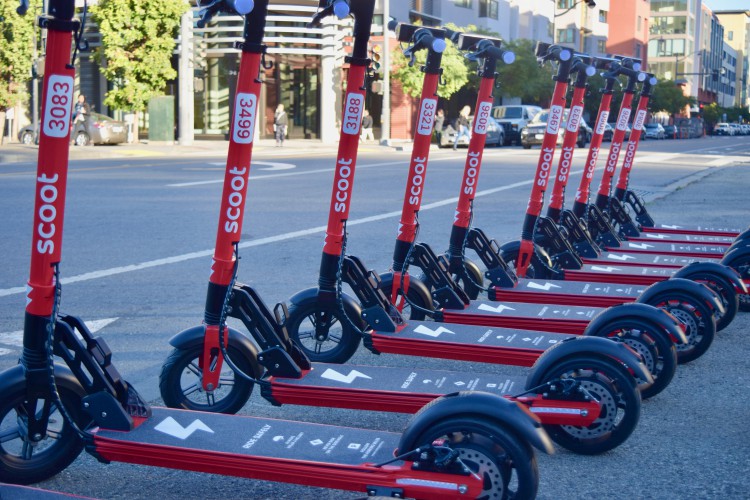 Robert Hood
Electronic scooters have returned to some San Francisco streets, and with these popular scooters come safety concerns.
Mark Zuasola, lieutenant with the UC San Francisco Police Department, reminds the UCSF community that these scooters are motorized vehicles, not toys, that operate up to 20 miles per hour.
The San Francisco Municipal Transportation Agency (SFMTA) banned the scooters earlier this year and instituted a new permitting process following numerous complaints of riders illegally riding on sidewalks and parking the scooters inappropriately.
SFMTA issued a formal request for proposal and awarded contracts to two companies, Scoot and Skip, to put 625 scooters apiece on the city's streets for a six-month pilot-period, beginning Oct. 15, 2018. During this pilot period, both firms are limiting their scooters to specific geographical regions, primarily in the eastern neighborhoods of San Francisco. After this pilot, SFMTA may extend the number of Scoot and Skip scooters up to 2,500 and include more neighborhoods.
According to the SFMTA, Scoot and Skip demonstrated a strong commitment to safety and agreed to provide access to low-income users, share data with the city, and protect users' privacy.
While electric scooters have grown increasingly popular in urban areas, they have also led to more emergency room visits where riders are treated for concussions, fractured skulls, broken legs, wrists, elbows and hips.
Dr. Catherine Juillard, M.D., MPH., a trauma surgeon and assistant professor in the UC San Francisco Department of Surgery at Zuckerberg San Francisco General Hospital (ZSFG), will be studying the impact of motor-assisted scoters and mopeds in urban areas and their impact on safety. The goal of this research is to eventually provide lawmakers and analysts with data that will inform sound regulation and public policy.
"I can say that several years ago that I didn't see these types of injuries happening, and now I do," Juillard said. "But we have to do the hard work of looking at the data to determine if there's truly a trend."
Christopher Colwell, MD, a UCSF professor and chief of emergency medicine at ZSFG, is working with Dr. Juillard on the research. "I'm quite confident that we're seeing five to 10 injuries from this a week, and I'm probably underestimating that. We saw one or zero a month before the increase in electric scooters."
Some simple safety precautions can help minimize injuries in the case of a scooter accident.
• Heed the advice in the training course, even if not mandatory, and be sure you understand how to safely ride a scooter
• Wear a helmet with a chin strap, even if you are over the age of 18
• Wear elbow and knee pads
• Have a valid driver's license
• Park responsibly, do not block entrances, stairs, walkways, ramps, or curb cuts
• Don't ride on the sidewalks (it's illegal!)
• Follow the rules of the road as if you were riding a bicycle or vehicle, as scooter drivers are subject to vehicle codes
As a UCSF employee, it's important to remember that scooters are for personal use. Further, they are not designed to replace the campus shuttle system which operates regularly and safely between UCSF locations. So, when traveling between campuses, employees should continue to use the free shuttles provided by the university.
If you do ride a scooter, UCSF Risk Management and Insurance Services reminds you to follow the safety precautions listed above and other guidelines that UCSF expects to issue soon.
Both Scoot and Skip plan to hold events on the UCSF campus to register new customers and provide them with free helmets.