Easy Money: UCSF's Dani Cambier Saves on Her Commute
---
By Robert Hood on February 21, 2019
---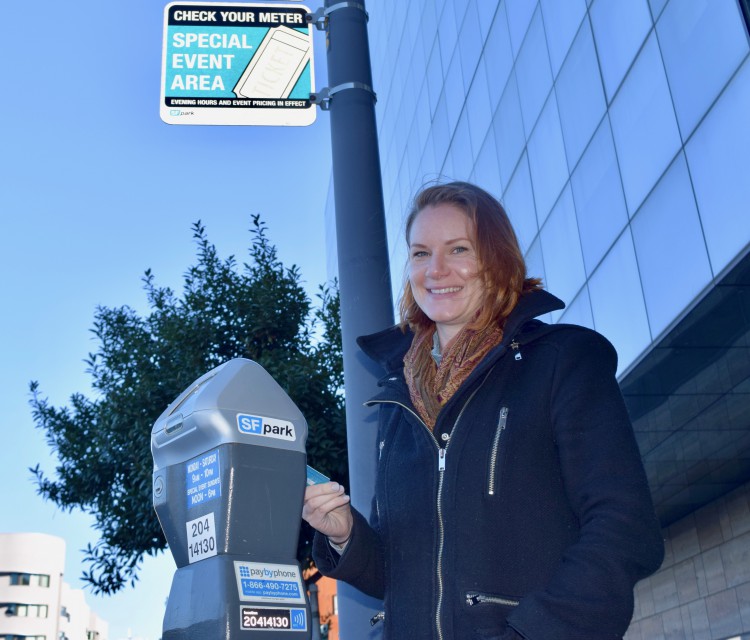 Robert Hood, Campus Life Services
For Dani Cambier, communications manager at UC San Francisco Housing, saving money on her daily commute to work is as easy as swiping a card.
Cambier is one of over 3,000 UCSF employees currently enrolled in the pre-tax commuter program, administered by Edenred Commuter Benefit Solutions (ECBS). By participating in the program, eligible UCSF employees can contribute up to $265 per month pre-tax towards mass transit and an additional $265 pre-tax towards qualified parking costs.
"It makes me feel better, using the card, knowing that I'm saving money," she said. "It's worth enrolling in the program."
Here's how it works: After signing up, employees receive a debit MasterCard from Edenred Commuter Benefit Solutions. Then, UCSF Payroll deducts the monthly amount elected by each participant - before taxes are withheld. This saves users money be reducing their taxable income. How much each individual saves depends on the amount of their deductions and their tax bracket.
"I started out using the benefit just for public transit, and sometimes Lyft Shared, but I just signed up for parking as well," Cambier said. "I didn't know I could use it for parking and now I have the option to use it for both BART and parking meters near my office."
David Schachman, finance and business operations manager at UCSF Transportation Services, said he would like to see more employees take advantage of the program. "I believe we can easily increase the number of people participating by simply getting the word out. We want more people to take advantage of the pre-tax benefit."
"Signing up was easy and using Edenred's online portal is very intuitive," Cambier added. "You can save money commuting to work just by using a different card. It's a no-brainer!"