Dr. Pearl Toy: Bringing Music and Joy to the UCSF Community for 20 years
---
By Robert Hood on January 05, 2018
---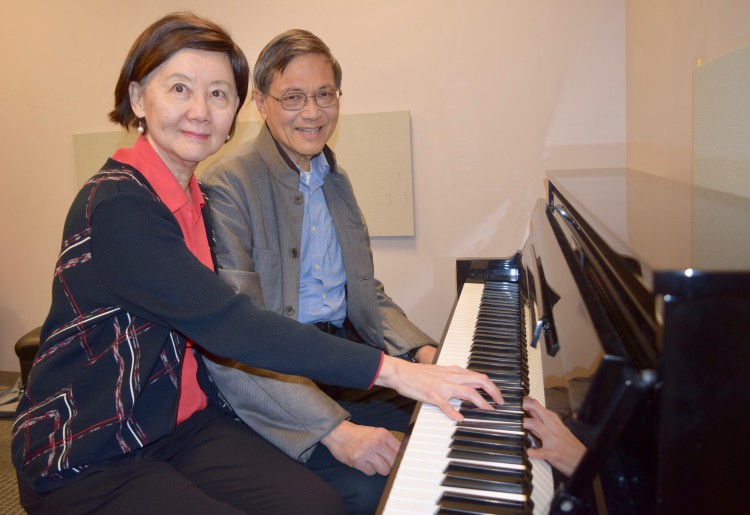 Dr. Pearl Toy, professor emeritus of Laboratory Medicine in the UC San Francisco School of Medicine who worked on transfusion safety, believes scientists and musicians share goals and traits.
"Scientists and musicians both aim to understand and discover beauty – the beauty in nature and the beauty in music respectively. For both, discovery requires meticulous hard work, practice and imagination," she said. "A scientist practicing music is not only enjoying discovering the beauty in music, he or she is strengthening habits that are also useful for scientific discovery. "
It's a primary reason why she, along with her husband Larry (photographed above), recently donated a new practice piano to the UCSF Kalmanovitz Library Music Room. The premium Yamaha digital piano was installed in August, 2017. It replaces an old, much-used, dysfunctional piano that constant tuning could not revive. "I'm very happy to see the new piano being used so much," she said. "Whenever I look at the online library practice piano room schedule, I see it is frequently booked."
However, people do not have to play an instrument to enjoy music. Dr. Toy thought that listening to 30 minutes of music could be refreshing to the UCSF community. It was a conversation in 1997 between Dr. Toy and then-Chancellor Dr. Haile Debas that brought concert music to the UCSF campus. "Following a discussion about regularly tuning the practice pianos, we walked across Parnassus Avenue and as we waited for a traffic light, he turned to me and asked what else I wanted! I was very surprised and I am very grateful to Dr. Debas. It was an opportunity to ask if we could start a Chancellor's Concert Series," Toy said, "and we did in 1998".
Dr. Nelson Schiller, a cardiologist at UCSF who has written program notes for the series, said it's not a stretch to say that the university, exclusively a health science enterprise, traditionally offered few cultural diversions. "One of the exceptions is the Chancellor's Concert Series," he said.
Schiller credits Toy with bringing the series to life. "From the perspective of one incurably addicted to serious music, I can say with impunity that the quality of programs offered by the series situate them at the very apex of artistry in professional musical performance. The credit unequivocally goes to Dr. Pearl Toy, whose musical taste, talent, unflagging determination and many friends in the Bay Area musical community results in 20 years of uninterrupted musical excellence."
Today, Toy wants to make the monthly Chancellor's Concert Series even more useful to UCSF and the upcoming schedule includes birthday concerts for three UCSF icons – former Chancellor Dr. Haile Debas, Dr. John A. Clements whose discoveries led to the effective treatment of premature infants born with underdeveloped lungs, and Dr. John W. Severinghaus who pioneered the measurement of blood gases to monitor patients in surgery and in intensive care units. "They are wonderful people who are beloved at UCSF, and they are giants and legends around the world. It is a privilege and a great joy to honor them and to celebrate their birthdays," she said.
Toy said she is also happy to collaborate with different campus departments to sponsor concerts that celebrate events such as Veterans Day and Martin Luther King Day. "We are able to draw an audience for events important to UCSF," she said.
The first noon concert of the winter season will be in honor of Dr. Martin Luther King Jr. It will be held on Wednesday, January 10, 2018 in Cole Hall and will feature the Lee Trio. A full schedule can be found at Campus Life Services Arts & Events.