Documents & Media Helps UC San Francisco Raise Money
---
Published on July 18, 2017
---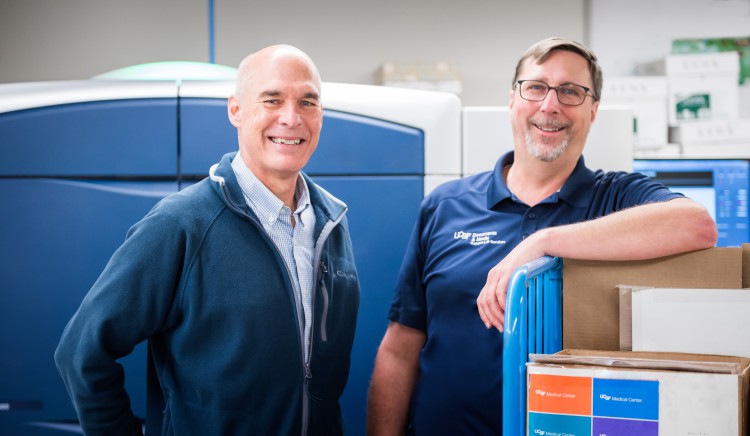 Maura O'Donnell, associate director for UC San Francisco Alumni Annual Giving, was convinced of the effectiveness of UCSF Documents & Media's Direct Mail Services Program when she raised 50 percent more on her mailers.
"What they produce for us is very professional looking," O'Donnell said. "Documents & Media is able to put together complex packages for us based on the individual characteristics of the recipient."
Keith Pavlik, digital production coordinator at Documents & Media, said variable data printing helps clients reach their direct mail objectives because it can customize everything from information to images.
"We are able to customize each mail piece, not only including the person's name but we can also include information about how they might have given to the university in the past and to what projects, and we can incorporate all of that information into a direct mail piece so that it really speaks to the reader," he said.
Roger Hefty, direct mail coordinator at Documents & Media, said working with customers, Documents & Media can use state-of-the-art technology and their years of experience in the business, to help customers meet their expectations.
"In the past, produced the alumni reunion letters in-house which was very time consuming and not very professional," O'Donnell said. The letters were not very attractive and error prone and were also very generic. "If you are an alum or donor and you receive something that's very generic you feel like the university doesn't recognize you. It can be very off putting. We want people to feel like we know who they are."
O'Donnell said fundraising, like everything else, has become increasingly sophisticated and personalized. She said the people at Documents & Media understand the intricacies of postal regulations, UCSF standards and protocols, and bulk mailing returns.
"They are really great to work with and provide great advice for us on our projects," she said.
The short video below explains how O'Donnell and the Documents & Media team work together to increase fundraising at UCSF.