Construction Begins Around the Mission Bay Campus, Impacting Traffic, Parking, and Daily Routines
---
Published on June 23, 2017
---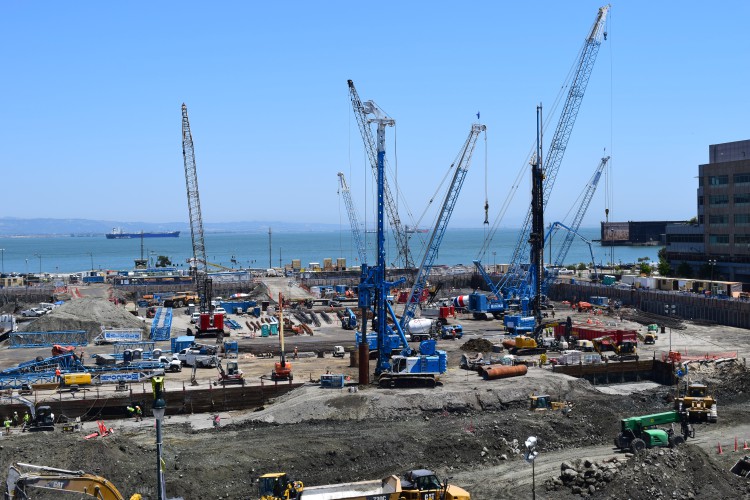 It's going to be a busy couple of years of construction in and around the greater Mission Bay area, as work commences on six different UCSF building projects adding more than one million square feet of new space to the university. Additional UCSF construction will soon be underway at Parnassus, as the Clinical Science Building (CSB) enters the second phase of construction as part of a complete renovation of the 1933 structure.
| Project | Location | Construction Start | Building Open |
| --- | --- | --- | --- |
| Childcare Center | Mission Bay | Summer 2017 | Fall 2017 |
| Student & Trainee Housing | Dogpatch | Summer 2017 | Summer 2019 |
| Precision Cancer Medical Building | Mission Bay | Spring 2017 | Spring 2019 |
| Joan & Sanford I. Weill Neurosciences | Mission Bay | Summer 2017 | Winter 2019 |
| Child, Teen & Family Center and Department of Psychiatry | Dogpatch | Winter 2018 | Spring 2020 |
| Block 33 Building | Mission Bay | Summer 2017 | Summer 2019 |

Paul Jenny, Senior Vice Chancellor for Finance & Administration, said the new buildings at Mission Bay, which total $1.28 billion, are needed to support growth in academic programs, research, and patient care and also provide expanded space for services, such as housing and childcare.
In addition to these six new buildings, several new surface parking lots will be paved in the northwest corner of Mission Bay. The first of these new parking lots opened on June 26 and includes 275 spots, replacing a 175 spot lot on 4th Street that was closed on June 26, 2017 to make way for the new Joan & Sanford I. Weill Neurosciences Building.
University employees will need to be patient for the next few years, as construction periodically closes streets and sidewalks, causing detours. Lanes may also close from time-to-time, adding to traffic congestion.
With their motto "Making Life Better Here," Campus Life Services created a
Construction Impacts website, where alerts, maps, and timelines are posted along with links to project descriptions. "We plan to send communications to targeted areas of the campus when the impact is significant, but members of the community should also review the construction impacts website and use the university's new commute planner (posted on site) to consider modes of transit other than driving to campus in a personal vehicle," explained Clare Shinnerl, associate vice chancellor of Campus Life Services. "Given the amount and scale of construction, dates and construction activity are likely to shift unexpectedly, so we ask for everyone's patience."
While it's a busy time for construction at UCSF, Michael Bade, campus architect and associate vice chancellor of Capital Programs, said it's not quite as active as the first phase of development at Mission Bay. From 1999 to 2005, in addition to constructing roads and sidewalks, the university was building seven structures: Genentech Hall (2003), Rock Hall (2003), the Rutter Center (2003), Byers Hall (2005), student housing (2005), the parking garage at Third Street (2005) and a child care center (2005).
"But you have to remember, we didn't have any neighbors during the first phase of development," Bade said. "Nobody else was developing in Mission Bay. We were like pioneers at the time. Today, that's changed."
In terms of the neighbors referenced by Bade, one of the major nearby developments is the 18,000-seat Chase Arena being built for the Golden State Warriors across 3rd Street from the university (photographed above). "There are going to be days when there are lines of concrete trucks waiting to pour the bowl for the new stadium," Bade said. "We didn't have to plan for that type of activity when we built the first phase at Mission Bay." Next to the Warriors, Uber is concurrently building its San Francisco headquarters. A full map showing both UCSF and neighborhood projects can be found on the construction impacts website.
In addition to closing the parking lot on 4th Street in order to construct the Sanford I. Weill Neurosciences Building, sidewalks along parts of 4th Street will close and pedestrians will be routed through Koret Quad. Later this summer, both the east and west shuttle stops along 4th Street will be temporarily relocated to the north, to new stops next to Rock Hall and Mission Bay Housing. Sidewalk closure is needed to make way for the construction of new utility lines to neurosciences.
"Thanks to the generosity of the Weill family, the university has a capstone project for the Mission Bay quad," Jenny said. "As a signature building on the Mission Bay campus, this facility will anchor the eastern side of the Koret quad, while beautifully complementing the architecture of UCSF's existing buildings at Mission Bay."

Jenny said the university's efforts to expand its childcare center capacity and build nearby affordable housing helps UCSF continue to attract and retain talent.
"The housing project will provide students and trainees with below-market housing and will insulate UCSF from the very expensive off-campus housing market," he said. In terms of childcare, on-site centers are in high demand and having a substantially larger center will shorten the university's waitlist.
The childcare center will expand from 84 children to 272 later in 2017. The new housing project in the Dogpatch neighborhood south of Mission Bay will add 595 units to UCSF's housing portfolio. The housing project is scheduled to open in the summer of 2019.
Bade said his team in Capital Programs is working directly with the city and all the other developers in the neighborhood to coordinate the logistics of the 61 different construction projects that are planned for the area with Global Information System (GIS) mapping. Among the most complex of the logistics are tracking the position of 17 cranes, so the hospital's helicopter pilots can develop safe flight paths, and coordinating short-term road closures and other traffic impacts, so drivers can navigate through the construction.
"These types of planning details are necessary as the greater Mission Bay area is developing rapidly," Bade said. "We'll continue to work with surrounding developers and the city to mitigate, as much as possible, the impacts of these projects on our community."