Connecting Healers at UCSF Benioff Children's Hospital in Oakland
---
By Robert Hood on July 22, 2022
---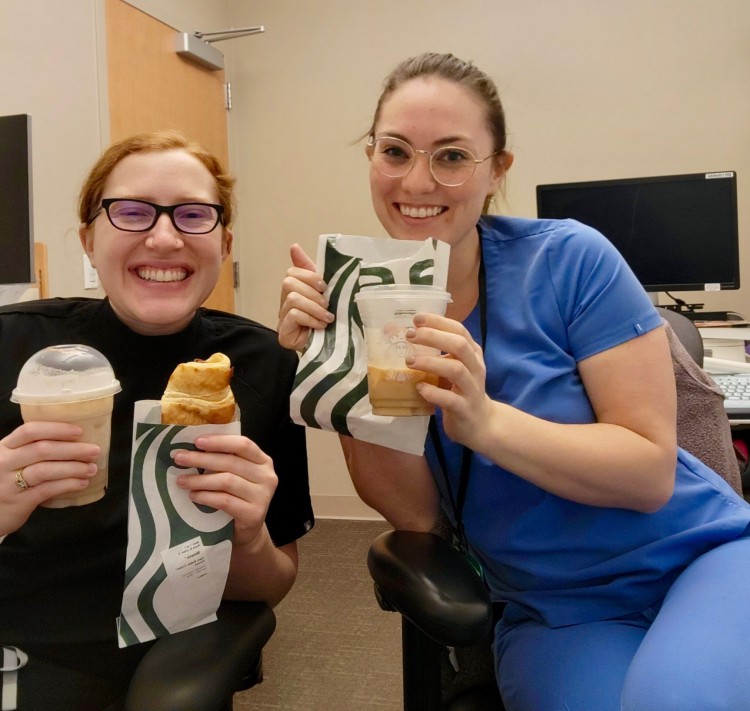 Allison Coleman
It's been a difficult couple of years for health care workers. The COVID pandemic has taken a toll on their mental health and emotional wellbeing. But a series of wellness initiatives developed by trainees at UCSF Benioff Children's Hospital in Oakland has helped provide support.
The Trainee Wellness Initiative was funded by a Community Wellbeing Grants funded by Wellness and Community. The initiative provides a multi-pronged approach to promote wellness, cultivate empathy and resiliency, and reduce burnout among physicians at BCH Oakland. The effort was driven by a resident-led committee.
Allison Coleman, HS Clinical Instructor at UCSF Benioff Children's Hospital, Oakland, worked with a team that included Shella Raja, Payal Desai, Laura Robertson, Anh Vo, Aisha Hanif, and Kira Turnbill and many others to develop three separate projects designed to enhance resident wellness and resiliency, increase connections between resident and attending physicians, and reduce rates of burnout.
"The first program was Healer's Connection which was a regular gathering outside of work for resident physicians, fellows, and attendings to discuss the trials and triumphs of practicing medicine," Coleman said. She also organized a Trainee Appreciation Week and a formalized mentorship program to connect residents and attending physicians outside of work. Photographed (above) at the event are Maddy Wheeler (left) and Melanie Grant (right).
Coleman said the Healer's Connection meetings were crucial to help maintain bonds and support for physicians – especially residents – outside of the workplace. "It has been a particularly challenging few years due to COVID restrictions outside of work, concerns about decreasing salaries and the increasing cost of living, staffing shortages and pressure to discharge patients faster or not being able to admit patients from the Emergency Room."
She said burnout feels particularly high recently so it was a particularly important time to create friendships and bonds outside of the stressful work environment.
The Trainee Appreciation Week was held in late winter and one of the highlights of the event was "The Great CHO Bakeoff." Several residents baked cupcakes and a group of attendings judged the final results in Great British Baking Show fashion. "It was a lovely activity that brought lots of laughs," Coleman said.
The discussion on community was excellent, Coleman said, and featured themes about the importance of supporting coworkers. "The discussion on privilege was also really lovely and allowed us to see and focus on many of the ways that we all have various types of privilege, even when it feels like the odds are stacked against us."
Coleman said event organizers struggled to have the time and energy to plan and host as many events as they had originally planned. "It took a lot of energy to keep responding to new COIVD surges and restrictions," she said. "Additionally, when collective burnout is high, it can lead to a vicious cycle of people not wanting to or having the energy to do fun things, which ultimately can worsen burnout."
Despite the challenges presented by multiple COVID surges, the opportunity to meet in-person and virtually to connect and share experiences did help to heighten the sense of community and reduce isolation.