Conference and Event Centers Repurposed to Support COVID-19 Response
---
By Robert Hood on August 31, 2020
---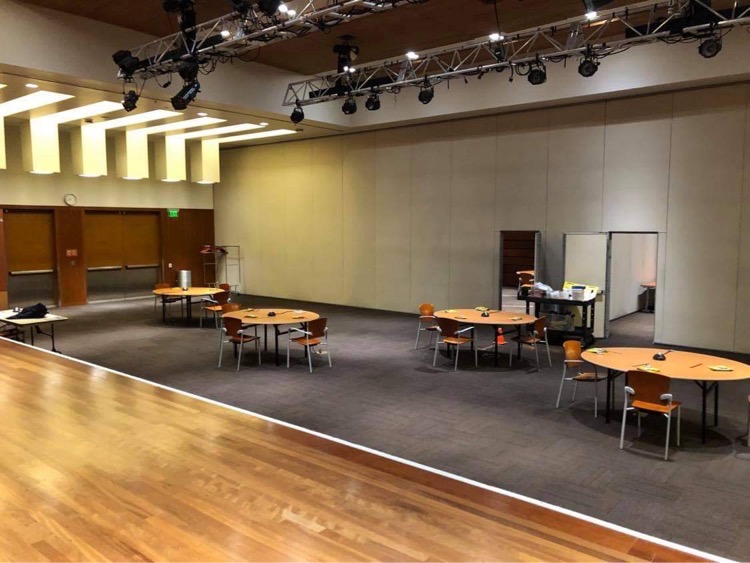 Since mid-March 2020, UCSF Conference and Event Services has canceled or postponed all non-essential events, and the Mission Bay and the Millberry Union Conference Centers have been repurposed to support UCSF's response to the COVID-19 pandemic.
"The entire world has had to adjust to the realities of COVID-19 - and that's certainly the case with event venues," said Jen Dowd, Associate Director, Conference, Event, and Retail Services for UCSF Campus Life Services. "Although our normal conference activity has been curtailed, we are pleased to be supporting UCSF's mission in essential ways by providing space and programming support for summer camps, YMCA camps, blood banks, flu shots, and family waiting areas. We are also impressed with the resilience of UCSF event organizers, many of whom have been able to hold successful on-line conferences."
UCSF departments needing space for an event or gathering defined as "essential," may be granted permission to use conference spaces. Organizers of essential events can complete this form for definitions, guidance and approval.
It is anticipated that UCSF Conference and Event Services can resume hosting non-essential activity after June 30, 2021. Given the current hiatus, UCSF has temporarily suspended its operational contract with Aramark and the Pub at Mission Bay is also temporarily closed. This means, for the time being, all conference space will be operated by UCSF personnel, without the expertise of Aramark management.
Requests to utilize conference center space – either for an essential gathering or to start planning for an event after June 30, can be directed to Cee Cee Shinn at 415-476-2019. Please note that a new venue at the Wayne and Gladys Valley Center for Vision (Mission Bay) will be available for essential activities in January 2021 and for non-essential activities after June 30.
"As we go through the process of adjusting business practices due to the current health crisis, we want the university community to know that we value their business and look forward to welcoming everyone back when it is safe to resume normal operations," Dowd said.