CLS Tech, School of Medicine, Honored with "Appademy Award"
---
By Robert Hood on July 23, 2020
---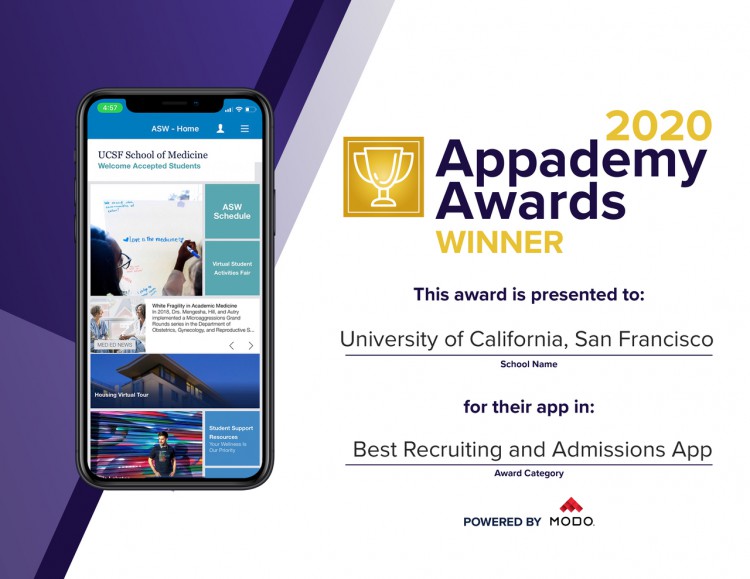 UC San Francisco's Campus Life Services Tech, in partnership with the UCSF School of Medicine, has been recognized in the annual Modo Labs "Appademy Awards" with the Best Recruiting and Admission App for 2020 for providing a superior virtual experience for students recently accepted to the School of Medicine.
The 4th Annual "Appademy Awards" recognized outstanding app development, user experience, and design among higher education institutions. This year, 46 nominees from four countries were reviewed across ten award categories such as "innovative communication," "recruiting and admission" and "new student orientation" for their original use of the Modo platform and for delivering a campus app experience that empowers students to succeed.
Instead of suspending its annual Accepted Students Weekend due to COVID-19 restrictions on travel, visitors, and events, the School of Medicine partnered with CLS Tech to launch a virtual experience on the UCSF mobile app. The experience included an interactive activity schedule, virtual housing tours, and a virtual Student Activities Fair. For additional spirit, the app included heartfelt student stories and student-created music videos. The content was crowdsourced from a group of first year medical students on the UCSF Admissions Advisory Committee and brought the traditionally in-person weekend to life, virtually, for 140 accepted students.
"The team was amazingly agile and resilient as they reworked the project for a virtual five-day experience, demonstrating not only their value, but the value and flexibility of our mobile platform," said Cindy Yoxsimer, executive director for Campus Life Services Business & Technology Solutions.
Multiple groups at UCSF worked collaboratively to make this experience happen, including the School of Medicine's Hallen Chung, director of admissions; Lesley Snyder, director of leadership communications; and the student body. The Campus Life Services team included Wayne Cheung, senior business systems analyst; Suzie Kirrane, digital experience strategist; Reggie Sparks, multimedia supervisor; and Brian Cosgrove, application engineering manager.
The Office of Admissions and the Admission Advisory Committee also played a key role in making the app a success.
"We understand native mobile applications are the best way to serve our community, so I have been excited during the whole process of developing the app," said Cheung.
In 2014, Campus Life Services introduced a GPS-enabled mobile app to help guide the UCSF community to services and events. It served as a concierge of local content and multimedia for the campus's on-the-go community of staff, faculty, and students.
In 2017, the app was redesigned and upgraded using an industry-leading platform from Modo Labs. The Modo no-code app platform offers enterprise-scale mobile engagement and communication capabilities that allow users to quickly and easily create unified mobile campus and workplace experiences that increase connectivity for employees, students, faculty, and guests. The app was then re-launched as the official campus app with improved functions and features.
In 2019 CLS Tech embarked on a roadshow visiting campus leadership offices. "We shared information on the potential of the UCSF mobile app and discussed opportunities for collaboration," Kirrane said. "Visits included the UCSF schools, University Relations, the EVCP Office, the Development office, and more."
The Campus Life Services team sought partners to pilot available and newly added app features and functions to increase UCSF mobile's value and adoption to benefit the entire campus. "Working with the School of Medicine, we were excited to leverage app features and functions to deliver an innovative experience for their accepted students," Kirrane said.
Lesley Snyder, director of leadership communications in the School of Medicine's Dean's Office, was interested in the app's communication tools, modules for virtual experiences, and the platform's ability to quickly expand uses while maintaining and enhancing the UCSF brand.
"She saw the opportunity to expand the school's toolkit to advance departmental initiatives related to student experiences and staff engagement," Kirrane said. "CLS Tech's experience with the app platform positioned us to rapidly create and scale experiences for accepted and new students. Recent changes in the environment, such as the reduction of large and small group events, and an increase in remote work, have increased demand for mobile strategies."
Cheung said other schools can use the platform to build native tools tailored to their needs. "Examples are tools for holding virtual tours and walking tours, keeping students and employees engaged with push notification messages, and empowering employees with location-based experiences to confidently return to the workplace."
Cheung said the app is easy to use and could become a one-stop platform for different groups at UCSF. "We hope, with more tools tailored for different groups, the app can help our community in every way possible, especially during the current unprecedented times when many of us have to work remotely."
Today, the UCSF mobile app has been downloaded more than 23,000 times. It provides real-time data integration for essential information (i.e. shuttle departures) and leverages proximity of useful information in a single app environment for UCSF (i.e. campus news, emergency numbers, inclusive restroom locations).