"Chuzie" Moua and Valley Bee Farms Keeps the Mission Bay Farmers' Market Buzzing
---
By Robert Hood on October 10, 2019
---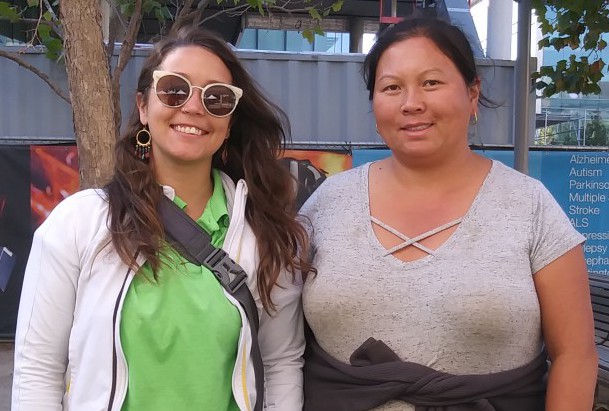 Robert Kirkbride
Chue Zoua Moua (photographed right), or "Chuzie" as she is referred to by regulars at the Mission Bay Farmers' Market, has been selling produce from Valley Bee Farms to the UC San Francisco community and other market goers for about 10 years.
"I sell all kinds of vegetables," she said. "Shanghai bok choy, gai lan, kale pickles, tomatoes, Thai chilies, squash, eggplant and more. I enjoy selling veggies at Mission Bay because my customers are friendly, and they don't bargain prices."
The Mission Bay Farmers' Market is held every Wednesday, rain or shine, starting at 10am. It is located on the Gene Friend Way vendor plaza in front of Publico.
Moua learned farming from her husband's family. "I learned to farm and sell at the farmers' markets from my brother-in-law," she said. "Our family always has fresh veggies for ourselves, but I like to sell to other people, so that's why I come to Mission Bay."
Moua is a favorite at the farmers' market and can be seen talking and laughing with her regular customers. "I know their names and faces, and they always come to buy the same veggies every week," she said.
Rebecca Dennis (photographed left), market manager, said "Chuzie" is an amazing woman. "She is one of the hardest working people I have ever met," Dennis said. "Not only is she a fantastic worker, but she is incredibly sweet and genuine. I feel the same about her produce. I get produce from her every week. I cannot survive without her tomatoes."
You can also find "Chuzie" and Valley Bee Farms at the Inner Sunset Farmers' Market every Sunday on Eighth Avenue between Irving and Judah streets.