Chocolate and Painting Highlight UCSF Fresno's Wellness Activities
---
Published on July 22, 2022
---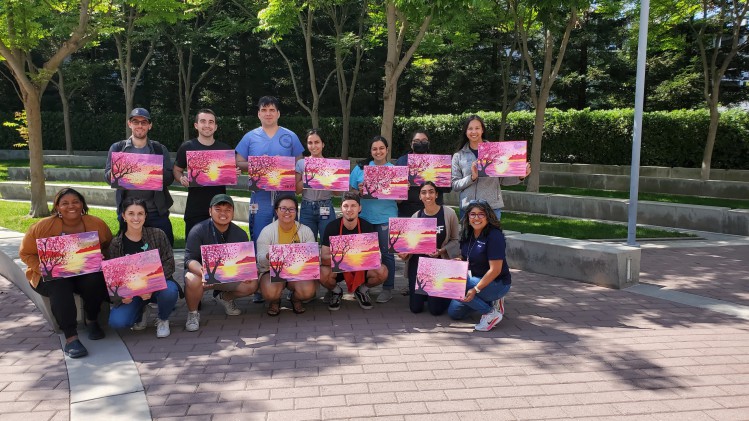 Photo courtesy of UCSF Fresno
A virtual chocolate tour and a painting class helped bring students, staff and faculty together at UCSF Fresno.
"The highlight was seeing everyone and engaging with each other outside of the confines of medicine," said Amanda De Lima Croft, wellness specialist at UCSF Fresno's Campus Life Services.
Leigh McCarthy, clinical operations and administrative manager at the UCSF Fresno Ambulatory Care Center, said the social engagement activities were a welcomed break from the challenges faced by health care workers over the past two years. "Our team has gone through many challenges with each team member fulfilling multiple roles in rapidly changing circumstances. We learned how important it is to take some time to 'just be' with your coworkers – and a good chunk of chocolate!"
The Wellbeing Grant helped fund a virtual event with the M.S. Hershey Foundation Speakers Bureau. While the group could choose from several educational topics including Hershey history, Hershey Gardens, and the Hershey Museum, they chose a lecture on chocolate itself – 'From Bean to Bar: All About Chocolate'.
McCarthy said participants in the online lecture were surprised to learn about the health benefits of chocolate. "We also learned how cacao trees are grown, how the pods are harvested, as well as how milk, white and dark chocolate are made."
Students in the UCSF San Joaquin Valley Program in Medical Education (SJV PRIME) had the privilege to plan a paint class. Participants, including students, staff, and faculty, painted a beautiful scenic picture (shown above). The SJV PRIME Program is a tailored track at UCSF School of Medicine for medical students who are committed to ensuring high quality, diverse and well distributed medical care to improve health for populations, communities and individuals in California's San Joaquin Valley.
De Lima Croft said participating in the projects at the height of the COVID-19 pandemic with various restrictions and ever-changing policies made it difficult to plan and advertise the events. "Although our turnout wasn't as high as we would have hoped, those who participated in the activities enjoyed the opportunity to unwind, laugh, and engage with peers."