Chief Engineer Warren Welch Sets Sail for Retirement
---
By Robert Hood on July 14, 2020
---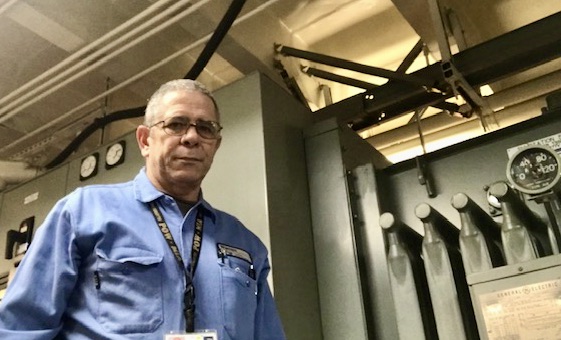 After nearly 35 years of maintaining facilities at UC San Francisco, Chief Engineer Warren Welch will be retiring at the end of July.
The first order of business for this former U.S. Navy machinist mate is to get reacquainted with his wife. "She has supported me and taken care of our family through thick-and-thin, some rough roads and some smooth ones, for 45 years."
Welch began working as a journeyman stationary engineer in the old power plant in September 1985.
"Many of us have had the privilege of working alongside or being part of Warren's legacy at UCSF," said Joe Plasencia, who works as Welch's chief assistant engineer. "Warren's integrity, passion and commitment to UCSF over the years is unparalleled."
Plasencia said one of Welch's primary contributions to UCSF is the hiring of current leadership at Facilities Services, including Paul Landry, interim director of engineering and utilities; Rabinesh Prakash, chief engineer at Parnassus; and Assistant Chief Brian Fox.
During the 1989 San Francisco earthquake, Welch was part of the leadership team that stood onsite, non-stop, for multiple days to bring utilities back online to keep the hospital and campus operating.
Plasencia said Welch is known as a "walking blueprint" and is willing to pull up his sleeves and work alongside the frontline staff. "He has definitely made an impact with everyone he has worked with over the years and he'll be greatly missed."
Ronny Melo, senior chief engineer on the East Campus, said Welch is viewed by his colleagues as a team leader. "He's always looking out for the university's best interests. He stands up for what he believes is the right decision and makes sure everyone knows."
Melo said Welch has been a contributor to the success of the Engineering Department with his dedication and knowledge. "He helps make UCSF an enjoyable place to work. I've enjoyed working with Warren and learning from his experience. We will miss Warren and we wish him luck in his retirement."
Welch currently works with the engineering team at Laurel Heights. "We monitor and adjust the air handling equipment, conduct inspection rounds of the building and grounds and make repairs as needed, and make common repairs," he said. Typically, there are three engineers on site and the current team has been together for the last couple of years. "We worked together at Parnassus for several years before coming to Laurel Heights."
Welch said the biggest challenge at Laurel Heights is finding parts for obsolete equipment and funding to maintain the building's aging exterior. "It's just an old building and needs some love," he said.
Is there any truth to the rumor that Laurel Heights is haunted? "I think the old UC Hall building is more haunted than Laurel Heights," Welch said.
Welch said he won't miss the daily commute to San Francisco. Welch and his family have lived in Napa, Sonoma and are now in Fairfield and said the daily commute is always a challenge.
Welch enlisted in the Navy after graduating from high school and served nine years active duty at sea. He worked as a machinist mate and was responsible for the ship's main propulsion systems. "I was stationed onboard amphibious assault ships and guided missile destroyers. I worked with main steam turbine engines, boilers and electrical generators. The work was always hot and noisy."
His ship's group participated in several operations at the end of the Vietnam War, including Operation Frequent Wind during the fall of Saigon. This was the final phase of the evacuation of American civilians and at-risk Vietnamese from Saigon.
"I was able to visit countries and experience so many different world lifestyles," he said. "I saw the most beautiful sunrises and sunsets you could imagine."
When it comes to retirement, Welch said he has no immediate plans. "I'm not really sure what we're going to do. The house and yard need some attention so that's where I'll start."