Chariot: A Stress-Free Commute for Berkeley Resident, UCSF Employee
---
By Robert Hood on July 06, 2018
---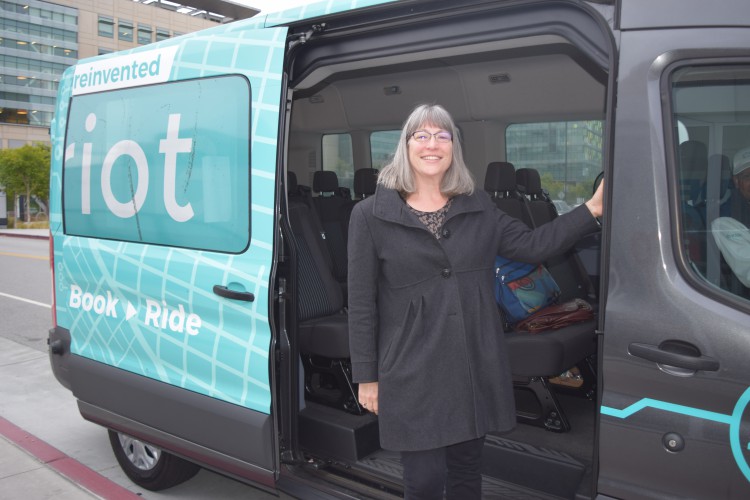 Robert Hood
As many UC San Francisco employees and students can attest, living in the East Bay and commuting to the Mission Bay campus is more frustrating than the relatively short distance between the two sites would suggest.
Take the case of Lynn Harvey, a data manager/analyst at Mission Hall. "I have tried every possible way of commuting from Berkeley to Mission Bay but there is no easy or fast way. The commute typically involves various modes of transportation and connections and can take up to an hour-and-a-half each way. And, if you miss a connection, you may have to wait another 20 minutes which is incredibly frustrating."
But Harvey recently discovered an alternative that has made the commute much easier. She is using Chariot, a fleet of vans that shuttles employees across the Bay Bridge from Oakland and Berkeley/Emeryville to Mission Bay. And thanks to the pilot program funded in part by the Metropolitan Transportation Commission, Harvey is paying the UCSF rate of $7.50 per ride (one-way).
Harvey downloaded the Chariot app to her phone, used her UCSF employee email address to log-in, and then selected the shuttle and pick-up time and location that was most convenient. The times can be changed daily, up to 90 minutes before departure. She said a boarding pass is downloaded to her phone which she shows to the driver to board the van.
"My commute using Chariot is fantastic!" she said. "Not only is it much faster than driving myself or using public transportation, it's easy to use, stress free and a very pleasant way to begin and end my work day. I absolutely love using Chariot."
Because the service just recently rolled out to Mission Bay workers, Harvey said the vans aren't full. She expects that to change. "Once folks in the East Bay find out about Chariot, I'm sure they'll love it as much as I do." So far, more than 100 UCSF employees have signed up to use the service.
The Chariot shuttles have three stops in Berkeley (1625 Shattuck, 2800 Park and 6101 Christie Ave.) and they deliver passengers to the shuttle stop at the UCSF Medical Center at Mission Bay. Shuttles depart roughly every 20 minutes between 6-8:45am and 3-7pm. A full list of East Bay stops can be found on the UCSF Transportation Services website.
Erick Villalobos, director of Transportation Services at UCSF, said the university is monitoring the demand for the Mission Bay pilot project and could expand to Mt. Zion and Parnassus Heights. "The Mission Bay and Mt. Zion locations were chosen by MTC as initial sites due to the proximity of these UCSF locations to Kaiser, another MTC grant recipient. We are planning a phased approach to add more routes based on demand."
For now, UCSF employees who work at Parnassus, Mt. Zion, Laurel Heights, and ZSFG can take Chariot to Mission Bay and transfer to their worksites via a free UCSF shuttle. Although this is not non-stop service, it is an interim solution.
Villalobos said UCSF employees can also take advantage of Transportation Services' Edenred pre-tax commuter benefits program to pay for Chariot. "Enrolling in the pre-tax commuter benefits program will save riders up to 30 percent on their commute costs."
UCSF offers a wide variety of transportation options for employees, of which Chariot is just the latest. To learn more, visit Transportation Services.