Busy Physician Enjoys the Convenience of UCSF Fitness Centers
---
By Robert Hood on May 15, 2018
---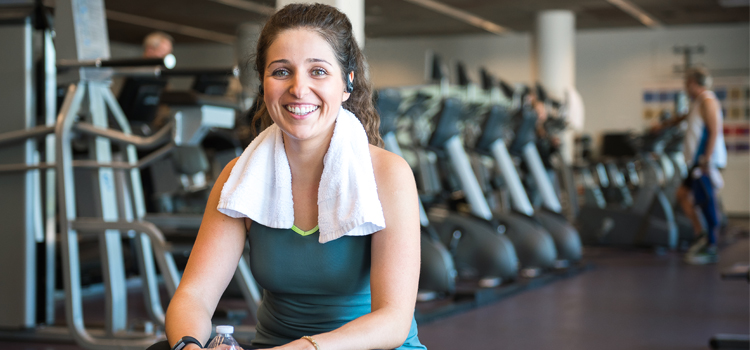 As a physician studying to be a kidney doctor, Diana Mina appreciates that the Bakar Fitness & Recreation Center at UC San Francisco Mission Bay and the Millberry Fitness & Recreation Center at Parnassus are open late.
"I'm on call a lot and work most days of the month so I schedule my workouts in the evening," Mina said. "Both gyms have plenty of classes at the times I'm available."
After working all day, Mina enjoys a high-intensity LES MILLS™ Group X class. Each class is choreographed to up-beat music designed to burn calories and produce a sweat.
"I've always been a big fan of working out and I enjoy group classes," she said. "It's something I researched when I was interviewing for fellowship positions. I was blown away by the Mission Bay fitness center and when I learned that there was also a facility at Parnassus that I could use it was really a win-win."
As a busy physician, Mina also appreciates the easy sign-up process for classes. "At 7pm every night I can login to my fitness center account and sign up for a class the next day. I don't have to worry about showing up at the gym only to learn that a class is full. I can even add my name to a wait list if my favorite class is full and they'll notify me by email if there is an opening."