Balancing Work and Family is a Lock for UCSF's Jennifer Cassidy
---
By Robert Hood on March 25, 2020
---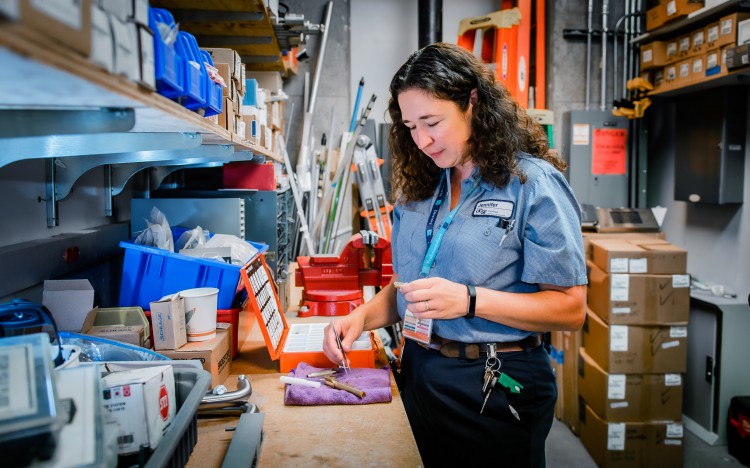 What is a London-born mother of three with a degree in English and Creative Studies who has worked in photo journalism and advertising doing as a locksmith at UCSF? We'll let Jennifer Cassidy tell her story.
"I was living in Amsterdam with my partner, Kevin, and we decided to move to the Bay Area to be closer to Kevin's family," she said. "That was 13 years ago. A lot has happened since then."
First, Kevin and Jennifer needed work in the Bay Area, so they took over Kevin's family locksmith business located on 41st and Irving in San Francisco. When he was young, Kevin learned the Locksmith trade from his father, so the Cassidy's were in business. Jennifer worked as an English language instructor and worked in the family business where she learned how to cut keys and pick locks. At the same time, the Cassidy's were starting a family of their own.
"Once we had the three boys, we converted the locksmith shop into a mobile business," she said. "When a locksmith job opened at UCSF, I applied because it offered good benefits."
Jennifer was hired and began learning a completely new technology – high-security electronic systems. She loved her job and learning about electronic keys and controllers, but it was difficult for Kevin to manage a business with three young boys. "I decided to leave my job at UCSF, but I let them know that I would be interested in a part-time position if one ever opened," she said.
And soon, a part-time position did open, and Jennifer returned to UCSF. She's now immersed in the new world of electronic, programmable locks and keys. "I love it," she said. "It's a completely different challenge."
Lock Shop Supervisor Paris Reed said Jennifer is a great asset to the East Campus Access Controls & Security Systems team. "She supports her coworkers and supervisor with their jobs, tasks and projects," he said. "Jennifer is professional and respectful and encourages her coworkers and supervisor to excel."
Jennifer, who is the only woman working in the university's lock shop, recently partnered with the Mission Bay Medical Center to install electronic locks to help monitor traffic. "Patient safety is the top priority, so we need to know who has access to each room," she said. "Also, with traditional locks and keys, if you lose the key, you have to change the locks. Now, if you lose an electronic key, I can simply reprogram the existing lock."
Reed said Jennifer brings organization, communication, and problem solving to the team. "She's very creative, a good writer, and willing to take on added responsibility. She's an important part of our team."
Jennifer said she would like to take on additional responsibilities and work full-time with the lock shop but she's waiting for her youngest son to start kindergarten in August. She's also enjoying her adopted city of San Francisco.
"People in San Francisco aren't afraid to say anything to you," she said with a laugh. "The open attitudes and bike culture remind me of Amsterdam. I also love the beautiful architecture, hills, and layout of the city. It feels like home."