Avid UCSF Cyclist Gears up for Bike Month
---
By Robert Hood on May 04, 2021
---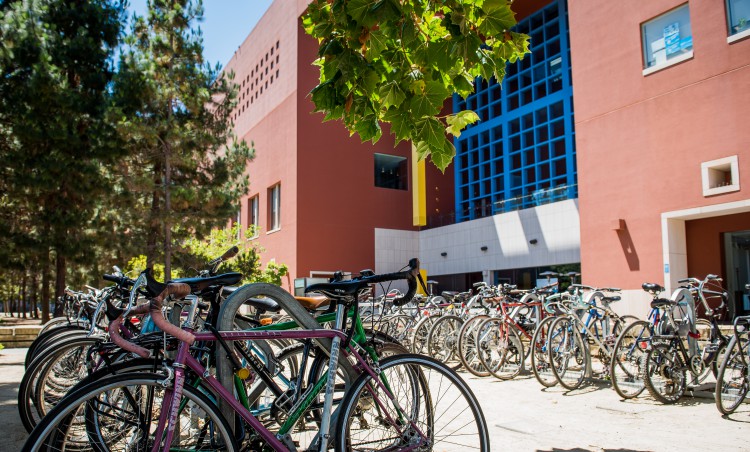 Marco Sanchez, UCSF Documents & Media
Are you considering beginning a new bicycle commute to UC San Francisco as part of Bike Month 2021 this month? Take it from Dr. Benjamin Breyer, Professor of Urology and Epidemiology & Biostatistics, the benefits are too many to count.
"I think it's great for core strength and cardiovascular fitness," Breyer said. "And it's never too late to start. I worked at UCSF 17 years before I started riding to work." As a seasoned bicycle commuter, Breyer recommends reflective clothing, a sturdy bike and lights when it comes to bicycle commuting. A good helmet is essential as well!
UCSF Transportation has several educational events lined up for Bike Month 2021 that will benefit both new riders and seasoned veterans. They include virtual conversations with bike enthusiasts and experts, held throughout the month, on topics including long-distance cycling, safety tips, and how to transport your bike on public transit. See events and register at Transportation's biking webpage.
"We encourage the UCSF community to join us on Bike to Wherever Day, Friday, May 21, by riding their bike to work, to run errands, out with the family, or wherever," said Transportation Demand Manager Georgina Arias of UCSF Transportation. "For a free tote bag, riders can stop by any of the SF Bike Coalition curbside stations around the city."
To ensure greater long-term security at the Parnassus Heights Millberry Union bike parking cage, UCSF is replacing all cage walls, doors, and locking mechanisms. Work will be completed this summer. In addition, 16 new bike lockers have been installed on the first floor of the Third Street Garage at Mission Bay, located at 1650 Third Street. Constructed of galvanized steel, the lockers will protect bikes from the elements.
Breyer said UCSF and the City of San Francisco should continually evaluate cycling infrastructure and make bicycling safety a priority. "It could, of course, be improved. I'd like to see cyclists have more actual physical barriers to protect riders from cars."
He said the university has an opportunity to consider bicyclists as it plans the Parnassus Heights revamp. "Understanding how traffic will flow across campus and ensuring the campus can be safely navigated by pedestrians and cyclists is critical," Breyer said.
The good news is that the Comprehensive Parnassus Heights Plan (CPHP) and the related community investments include several initiatives that would improve pedestrian safety and increase bike connections to the campus.
"One of the goals of the CPHP is to promote Active Transportation Modes by partnering with the community and the City to improve mobility and safety," said UCSF Senior Planner Tammy Chan. "Specifically, we're looking at implementing feasible safety improvements at the intersection of Arguello Boulevard, Carl Street, and Irving Street. In addition, UCSF is looking to continue to partner with the City to identify a bicycle route between Golden Gate Park and the Campus. Outside of the CPHP, we are also about to embark on a campus-wide bike and micro-mobility plan that will look at aspects of bike connections, safety, and bike parking on campus."
For more information about Bike Month and resources on campus for bicycle commuters, please visit the Transportation website.