Amy Wong: Apprentice Engineer and Facilities Detective
---
By Robert Hood on May 06, 2020
---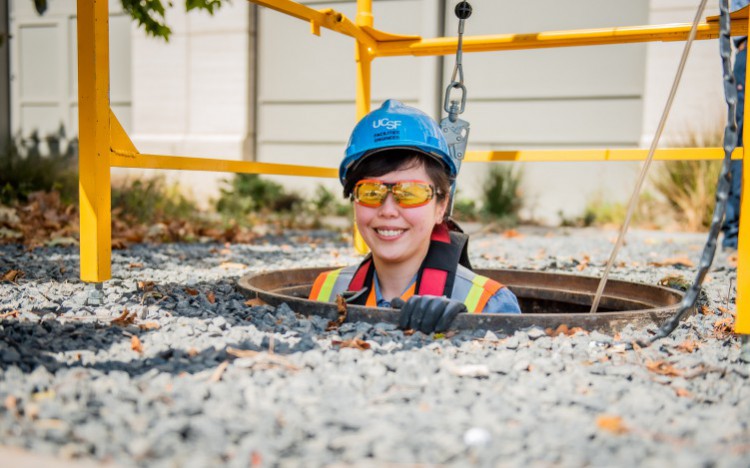 Marco Sanchez, UCSF Documents & Media
On any given day you might find Amy Wong, apprentice engineer at UC San Francisco, sleuthing out problems in a boiler room or dropping into a manhole to investigate the pipes that run under the streets of campus.
"Amy is extremely talented with information and technology," said Brandon Zoetewey, chief engineer for East Campus/Mission Bay, and Wong's supervisor. "Her ability to multitask and manage projects in a relatively short time is amazing. The strongest non-tangible attribute would be her dedication and determination to complete something. She never lets anything beat her. Yes, I highlighted anything because if you know Amy, it couldn't be more true."
Wong began her career at UCSF as a utility admin three years ago and was promoted to an apprenticeship last year. She works the dayshift five days a week and attends engineering classes two nights a week. "Her primary responsibility," Zoetewey said, "is learning new skillsets from journey person engineers."
Wong has lived in San Francisco since she was six-years-old. She grew up in the Sunset District and earned her degree from San Francisco State University, where she studied American history. She also earned her teaching credential.
Prior to coming to UCSF, Wong worked as an IT manager at a local hotel. She was told by coworkers that she was mechanically inclined, so she took the apprenticeship test and passed.
"I enjoy working at UCSF," she said. "We have lots of different types of buildings that have different mechanical systems so I'm constantly learning. We primarily help with preventative maintenance."
Zoetewey said Wong is insightful and is always asking questions and always learning. "If we're walking through a boiler plant, I know I'm going to get 10,000 questions about how all of the equipment works. I have learned from her that it's not just about going through the boiler room, it's helping develop our team to better serve our campus mission at UCSF."
Amy said she likes the work atmosphere at UCSF. "We have a very diverse workforce at Facilities Services and every day brings a new challenge on the job. There is always something new to learn."
Wong said there are times when she becomes part detective to help clients solve mysteries related to their buildings. "They'll call and say, 'There's a strange smell that comes from the building a couple of times a month.' I work with the clients to learn more and see if I can find a source. It's interesting work."
She also works on a variety of equipment. "When I first started, my biggest concern was working with electricity. It was intimidating. But now, I've learned to respect steam. The high-pressure steam systems in the autoclaves present their own issues."
You might see Wong poking her head up through a manhole on the streets of Mission Bay as she assesses the piping that leads to UCSF buildings. She has passed her confined space training and will often don a harness and slip down the manhole. "You learn which pipes feed which buildings and how everything works. It's a different world under the streets."
Amy is eager to finish her apprenticeship and eventually become an engineer. "I want to maintain my grades and continue the certification process. The learning never ends but I love my job at UCSF."