Alex Hernandez and John White Help Keep UCSF Safe and Secure
---
By Robert Hood on September 02, 2021
---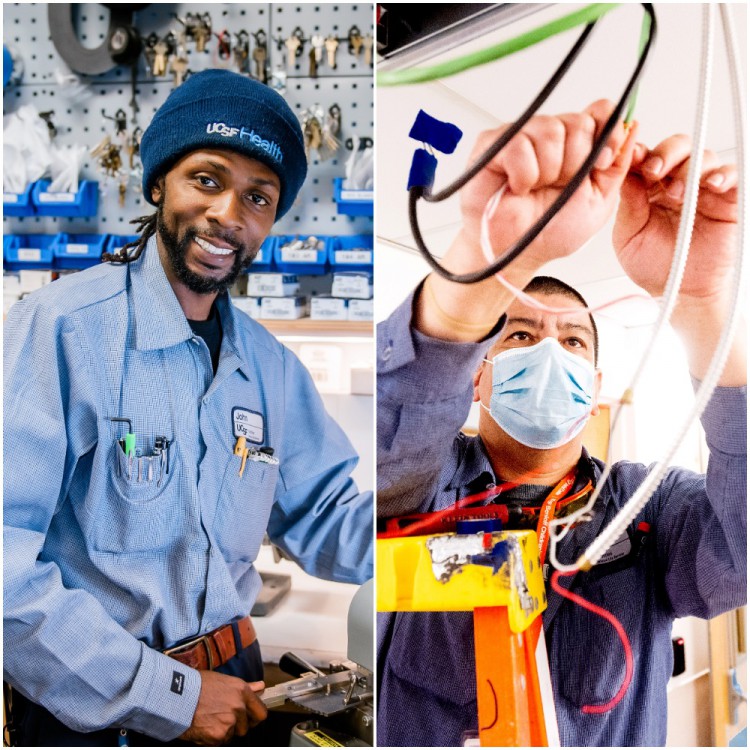 Security Systems Technician Alex Hernandez (photographed above, right) and Locksmith John White (left) are members of the eight-person Access Controls and Security Systems team charged with securing the UCSF campus.
"You never know what you're going to run into in our field," said White. "You always have to be thinking on your feet. You could be called to campus at 3am to repair a lock or you could end up driving to Pleasanton or Santa Rosa to replace keys. In a normal day, I might have 18 different jobs."
And keeping the people and property of UCSF safe is the common thread to those jobs.
"The best part of working here is the people," Hernandez said. "I have developed many close relationships at UCSF."
Access Controls & Security Systems Program Manager, Gregg Sprowl, said the entire team has stepped up during COVID.
"When the campus closed, our program got busier with securing our spaces and adding security in Medical Center spaces," Sprowl said. "There were times the team was even working in COVID spaces. They have been here on the front line through it all."
Hernandez works on card access readers, intrusion systems, cameras, door operators, panic buttons and a plethora of different locks. "I can start a project from blueprints to pulling wires, installing hardware and programming the software. Basically, I can do most jobs from start to finish."
And, like White, every day is a new day with unexpected challenges. "I go from project to project, answering emergency calls and meeting with project managers."
Access Control and Security Systems Supervisor, David Roman, said he's never worked with an individual that comes to work as positive and ready to go as Hernandez. "He always greets everyone with a smile and a good morning. He has an infectious can-do attitude and inspires others with his positive vibe. Working beside Alex for 15 years has been a pleasure and a learning experience."
In addition, Roman said Hernandez readily shares his knowledge with coworkers. "He's willing to take on anything you throw at him, because he figures out a way to get it done."
Hernandez began working in security 28 years ago. "I was working at LAM Research (semiconductor company) as a material handler and became good friends with the owner of the company that provided security to LAM Research," he said. Hernandez started as a "wire puller" and learned the basics. Eventually Edelman Corporation took over security services at LAM Research and Hernandez was asked by Edelman to stay on as a supervisor.