Abby Snay Revs Up With Early Morning Exercise Classes
---
Published on July 12, 2017
---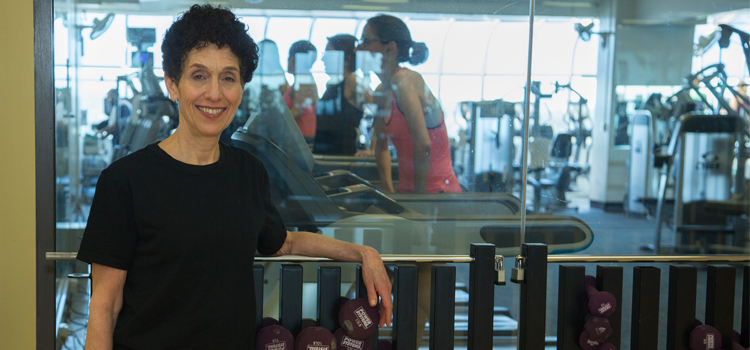 Abby Snay loves working out at the Millberry Fitness & Recreation Center at Parnassus and really appreciates the extra push she receives from the group classes such as BODYPUMP™.
"I find I work harder with an instructor and a group of people in the class than if I workout alone," Snay said. "I started as a swimmer and would do some weight lifting but I like the classes for the added intensity and social connection."
Snay has been a part of the UCSF community for years. Her husband is on the faculty and they live near Parnassus. But the bond she's built with other gym members has been special.
"We've gone through the birth of children, the death of spouses, even the death of other members," she said. "It really is a tight community of people."
That's why you'll see Snay every morning at 6:15 getting ready for either a BODYPUMP™ or Spinning® class. "It gets me energized in the morning," she says. "There's always a good mix of regulars and new people while makes every class fun and interesting. When I first started, the veterans would coach me to make sure my form was good and now I do the same with beginners. It's a great way to get the day started."