A New Red Express Highlights Shuttle Changes
---
Published on June 27, 2017
---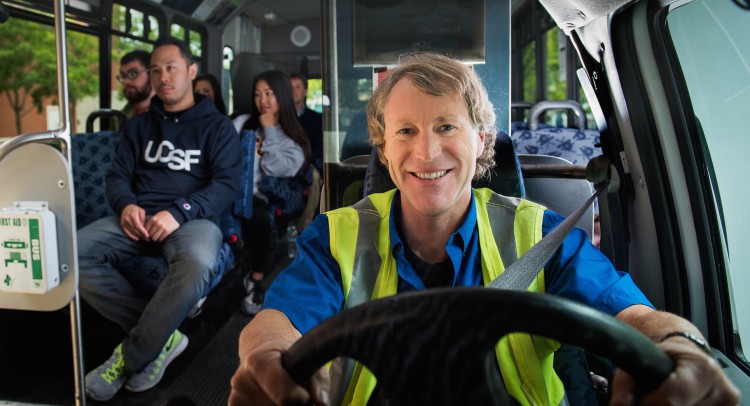 A new Red Express shuttle now provides direct service between Mission Bay and the 16th Street Bart Station during peak hours on the weekdays.
The Red Express will operate from 6:30 to 9:30 a.m. and 3:44 to 6:36 p.m. and is designed to supplement the current Red shuttle. It provides 12 additional runs per period to accommodate increased passenger demand.
"This new service is in direct response to our customers who want to get to and from Bart as quickly as possible," said Erick Villalobos, director of Transportation Services at UCSF.
The Red shuttle will continue to service riders traveling to and from the Mission Center Building. "Mission Center Building riders should see improved shuttle access with these changes," Villalobos said.
The Red Limited route, which was piloted for a six month period, will be discontinued due to low ridership and a Red Plus shuttle will offer service between 1550 Bryant and Bart four times a day during peak hours.
The Yellow route will also reduce service to the 20th and Alabama streets stop on July 5. The yellow will stop at that location twice during peak times and midday periods. This reduction in service is due to decreased ridership at this location.
To the new schedules in detail, please visit the Red and Yellow routes at Transportation Services.
| Shuttle | Red Express | Red Limited | Red Plus | Yellow |
| --- | --- | --- | --- | --- |
| Changes | New! | Discontinued | New! | Reduced Service |
| Route | MB to BART and back | 1550 Bryant, BART, MCB, MB | 1550 Bryant, BART, MCB, MB | 20th and Alabama Streets |
| Service Hours | Peak Hours: 6:30-9:30am; 3:45-6:35pm | Peak Hours | Four times a day during peak hours | Twice during peak hours and midday periods |
| Effective Date | July 5 | July 5 | July 5 | July 5 |