Facilities Services Resumes Window Washing
---
Published on September 29, 2017
---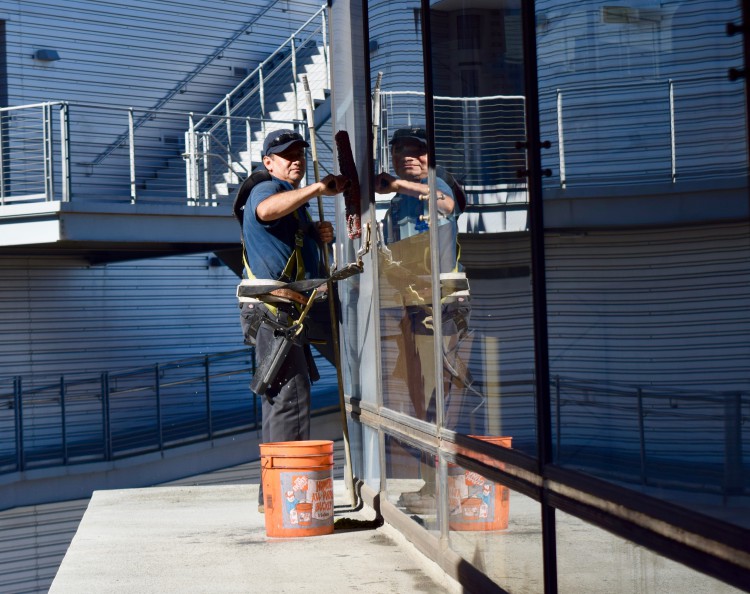 While Steven Campbell wasn't blinded by the light, he did have a much clearer view of campus after Facilities Services washed the windows outside of his Parnassus office.
"Not only is my view much more pleasant, having clean windows makes my environment feel fresher and the building feels better maintained," said Campbell, an executive assistant in the School of Medicine.
Campbell and others around the Parnassus campus have noticed that, for the first time since 2008, exterior windows on buildings are once again being cleaned. 
"Because of past budget cuts, we had to eliminate window washing at all campus locations," said Jon Giacomi, executive director of Campus Facilities Services. "It was a difficult service to cut because people always want clean windows, but difficult decisions had to be made many years ago to protect funds for other parts of campus operations. We couldn't be more pleased that we can reinstate window washing now – it's been tough to explain and a bit of a sore spot with our campus customers."
This year, the campus administration allocated additional funds to Facilities Services specifically for window washing. At Parnassus, the windows have been washed at Millberry Union, Health Sciences West, the Koret Vision Center, Ray and Dagmar Dolby Regeneration Medicine Building, and PSSRB. Work will begin at Health Sciences East the week of Oct. 9.
Other buildings at Parnassus have safety issues which preclude washing every window. These include Medical Sciences, the School of Nursing, Dental Clinics, Library, UC Hall, and Environmental Health & Safety. At these buildings, as many windows as could be safely reached were washed.
"We understand the basic need for clean windows," said Chris Gonzalez, senior facilities manager. "It's truly part of a first impression and it's now part of our focus. We've added window washing to our regular maintenance schedule."
Outside of Parnassus, the Mt. Zion Research Building will have its windows washed by the end of the year.
To Clean Windows, Buildings Must Have Fall Protection Systems Installed
Buildings must meet certain safety requirements to allow window washers to do their job. Not all buildings at the university meet these requirements. Campus Facilities Services is working with Capital Programs to hire contractors to install fall protection systems on all buildings so they can be added to the window washing schedule.
While buildings at Mission Bay have fall protection systems, only the Mission Bay Housing buildings have met all the necessary safety requirements to allow window washing. Windows at the Mission Bay Housing buildings were washed last month. Other buildings at Mission Bay are working towards meeting those safety requirements.
Yesenia Jimenez works in the Fleming Lab on the fourth floor of the UCSF Dental Center and she noticed a big difference when her windows were washed. "I can now truly appreciate one of San Francisco's iconic views," she said.
To learn if your building has the necessary safety equipment or is scheduled to have its windows washed, please contact your building's facilities manager.