UCSF Welcomes Staff to Live in Campus Housing
---
By Robert Hood on August 16, 2021
---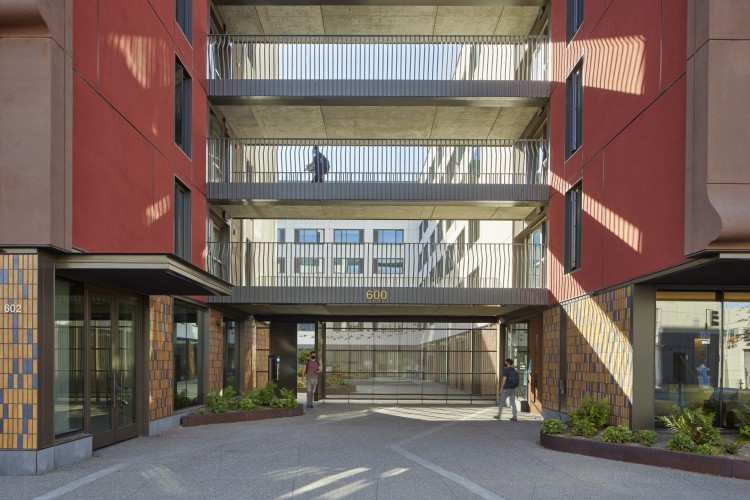 Photo credit: Bruce Damonte
As a staff member at UC San Francisco, Veronica Steri was pleased to learn that the university is expanding eligibility for campus housing beyond students, trainees, and faculty to also include staff.
"Housing in San Francisco is honestly quite bad. It is either too expensive or moderately expensive and old and not functional," said Steri, who works as a researcher at the Helen Diller Family Comprehensive Cancer Center where she oversees experimental projects, imaging service and is responsible for client communications.
Steri lived in UCSF housing when she first moved to the US from Europe. But she had to move out of UCSF housing when her payroll title changed from post-doc to a staff, and she was no longer eligible for campus housing. "UCSF housing is the perfect mix of efficient and affordable modern living. It also offers a large variety of services such as maintenance, shuttles, and access to a fitness center."
So, it's welcome news to Steri that UCSF will now invite staff to lease below-market rate apartment units on campus.
"Providing staff the opportunity to lease on-campus housing has been in the planning for more than 18 months, commencing in 2019 with a housing study that included the opinions of 4,460 staff," said Director of Housing Administration Todd McGregor. "We heard loud and clear from many staff that they want access to campus housing, not just because we are affordable but also because we are close to their work and this eliminates their commutes."
Most of the available units at this time are in The Tidelands, a UCSF campus housing complex located in the Dogpatch neighborhood across the street from the Mission Bay Campus. Through Sept. 30, 2021, Housing Services is offering one month of free rent for those who sign a new lease and move into a Tidelands efficiency unit or Tidelands shared two-bedroom unit. There is also some availability in Mission Bay Housing and the one month free rent applies specifically to Mission Bay shared 4-bedroom units. All of these options are great for singles. Visit the Housing website for more information about rents and floor plans.
More housing available to staff will open in the future, especially when UC Hastings completes its downtown construction in 2023, where UCSF has committed to filling 230 units.
"We are pleased to offer this convenient and below-San Francisco market living opportunity for UCSF staff," said Senior Associate Vice Chancellor of Campus Life Services, Clare Shinnerl. "For quite some time, we've had our eye on the goal of welcoming staff into campus housing but didn't have inventory until now."
Priority will continue to be given for students, trainees, and faculty, but a number of units will be available for staff.
Staff with at least a 50 percent UCSF career appointment are eligible. The same lease terms and conditions extend to staff as to students, trainees, and faculty. Lease details are available here.