UCSF Shuttle Driver Angela Silva is Focused on Safety
---
By Robert Hood on October 08, 2019
---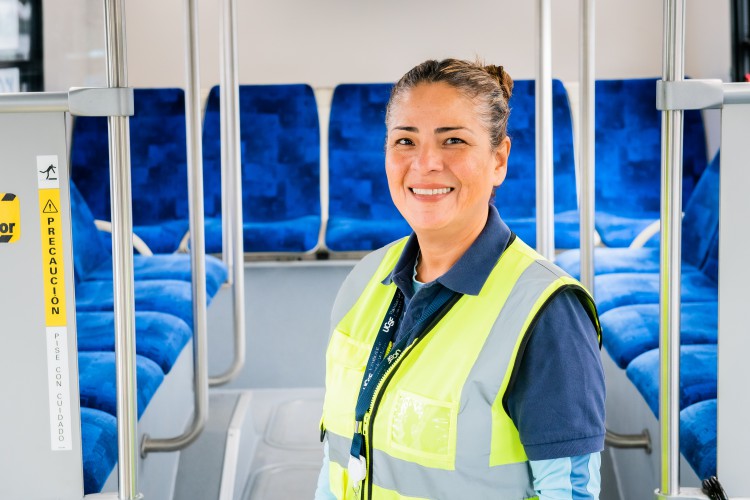 As a fill-in shuttle driver for UC San Francisco, Angela Silva has a good understanding of the hazards of the city's streets. On any given day, Silva may be asked to drive any one of the university's 13 different routes.
"It's never boring," she said. "Each route has its own issues."
UCSF Transit Supervisor Edgar Rodriguez said Silva is a very cautious driver and employs the defensive driving training taught to all of the university's shuttle drivers. The Smith System of driving features five key principles designed to reduce the risks involved in driving by teaching drivers to anticipate dangerous situations.
Silva used those skills while driving the Red shuttle. "A motorcyclist was coming down 16th Street and nearly hit a car pulling out from one of the side streets," Rodriguez said. "The motorcyclist fell over and skidded towards Angela's shuttle."
Thankfully, Silva was watching the situation unfold and slowing the shuttle in anticipation of what might happen. Her fast thinking saved the motorcyclist from more serious injury.
Silva grew up in Nicaragua and moved to the United States when she was 20. She has lived in the Bay Area since, residing in both San Jose and San Francisco, where she currently lives.
She began driving as a chauffeur, a career that her brother had pursued. "I was out of work and he helped me get a job as a driver," she said. She earned her Class C license and delivered newspapers before earning her Class B license to drive shuttles. Prior to arriving at UCSF, she was driving a shuttle at the Academy of Science.
"There's a lot of responsibilities driving with passengers," she said. "You need to be happy and show everyone that you enjoy your job. You also need to have patience on the road."
Rodriguez said Silva is dependable, always at work, and rarely sick. "Angela is always smiling and comes to work with a good attitude knowing that she will be dealing with San Francisco traffic."
So, which of those 13 UCSF shuttle routes does Silva like most? "The Bronze," she said. "I like driving people from Parnassus to the top of the hill at Aldea."
Silva said driving the Grey line is the most challenging, as drivers wheel a large bus full of passengers across town on some of San Francisco's busiest streets. "It's a route that I'm extra cautious on because of the traffic. You can't be too safe."